Review: Killer Guitar Components – Brass Tremolo Block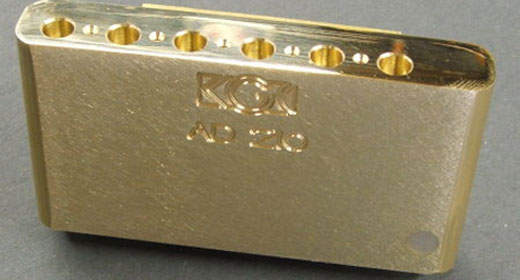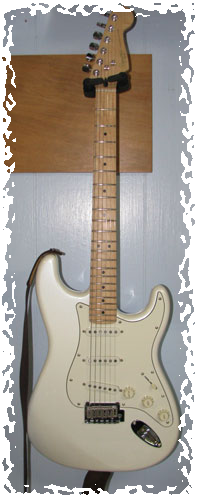 Not being a high profile player ( or even low for that matter ), my axe is a humble Squier Deluxe Stratocaster.   And I love it.  When I tried it out in the store it was better than the MIM ( made in Mexico ) Fender's and I figured I'm not so pretentious to give a crap about what the logo says.  But as with any less-than premiere guitar there are always upgrades to be done.  And indeed I have done them such as replacing the nut with a TUSQ, added string rollers and also put in full sized potentiometers.  For now, the stock Seymour Duncan pickups rock pretty good, although I'm eyeballing a Dimarzio Area 61 for a future project.
The Squier Deluxe has a twin-point tremolo which although amazing, can be hard to find block upgrades for.   Both Callaham and Guitar Fetish sold blocks that are close…but close is not what I want.  I want an exact fit.  I also wanted brass because I have a maple neck and I hear that brass can tame the tone somewhat.   That left me with one option, and it was with Killer Guitar Components.
After being unable to resist their Columbus Day Special, I purchased the block that was designed specifically for my guitar.   And it has arrived, and let me tell you…it it a beautiful thing to behold.  What made me purchase from KGC was their online reputation for stunning quality and in the case of my block they did not disappoint.   The craftsmanship alone radiates sex appeal.
For those too freaked out to ever attempt such an operation on their baby, allow me to show you the quick and easy procedure I used to get Mary-Ann rocking and the results that followed.  And yes, I named my guitar.
1- Prep for Surgery
As with most blocks that are slated for replacement, mine had this typical half-sized zinc piece of crud…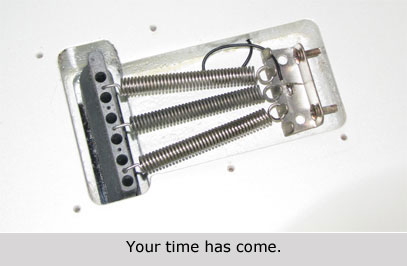 So at this point, place your baby on a clean working surface and get to work.   I placed a couple towels underneath to prevent scratches.  Remove the strings and then take off the back and remove the tremolo springs.  The tremolo should fall right out unless you have a more conventional 6-screw system.   Either way, it's not brain surgery at this stage of the game.
2- Mark your Intonation
Mark my words, this will save you a metric ton of time.  All you need is some masking tape and a pencil to mark out the intonation height of the saddles.  And DO NOT MIX THEM UP.  Put them back in the same way they came out or you'll spend forever getting it back to the way it was.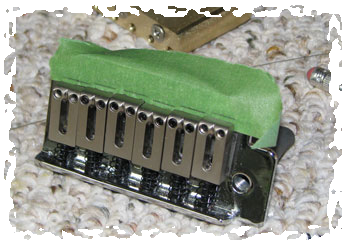 Once the saddles are out you'll have instant access to the screws that hold on the block.  Unscrew the old, and pop in the new.  Simple as that.  Oh, one thing…your old whammy bar will not fit.  This is a Fender sized hole ( 10/32 ), not a Squier.  But you'll probably never know because that thing has been tucked away in your gig-bag for years anyway!
3- Saddle Up
Now put the saddles back in in the same order they came out…which should be easy because you lined them up somewhere safe.  If you failed to heed my advise then may the Lord place upon you and your family the plagues He bestowed upon Pharaoh for your unmitigated insolence.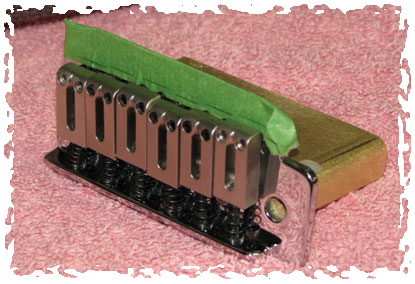 Here's where the tape pays off.  Due to my genetically superior intellect, my intonation was bang on after install.  So go ahead and pop the tremolo back on its mounts and reattach the tremolo springs.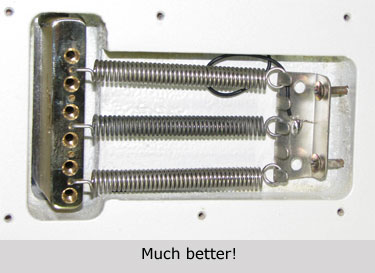 4- Restring. Tune.  Jam.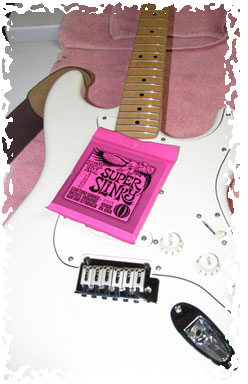 Only a few days prior to installation I put in a new set of Ernie Ball Super Slinky's just so any tonal nuances couldn't be blamed on a mere string change.  After the block went in I replaced the strings with the exact same type.
After getting it all tuned up it was time to play a few songs I've played perhaps a few million times just so I would be able to hear subtle differences.
Instantly I noticed something good.  Very good.  While using some overdrive I noticed my sound was more ballsy, not as tinny ( or thin as some say ), and definitely hung onto the notes longer ( sustain ).  The sun was bright, the children sang and I was happy.
After cranking out a few Boston and Lincoln Brewster tunes it was apparent that the major benefit from this upgrade was the sustain, which was certainly never rocket hot with the stock block.  Yet now it is there and it is awesome.  But where you'll really notice this benefit is when you use delay.  U2's Where the Streets Have No Name had a chime that was never there before and even though I've played it a hundred times, it was like cranking it out for the first time.  Brilliant.
Lest I get too pumped, I should reinforce my statements with a disclaimer…this is an upgrade that will help a good guitar be a better guitar.  If you own a turd ( let's hypothetically call them Squier Affinities ) then your mileage may not be as significant.   A good guitar is much more than just the block.   It's the craftsmanship, the wood, the neck, electronics, etc.  The Squier Deluxe is already a great guitar out of the box and this just gave it that little something extra.   Just don't expect your $300 guitar to suddenly rival a $3000 custom shop Fender Strat.
Also remember, the change in tone and sustain will not change the fact that your Strat will still sound like a Strat.   Only now it's running on premium instead of regular unleaded.   So for those sitting on the fence wondering if they should take a leap of faith and upgrade their instruments,  I highly advise taking a look at Killer Guitar Components.