5 Tips to Finding Prince Charming and Not a Douchebag!
It sounds to me like you women out there need a little guidance on how to nab yourself a dude.  But not the common losers you all seem to gravitate to like bugs to a zapper.  No, a real man!
Now keep in mind this advise is coming from a guy with a massive Madonna-Whore Complex.  Well mainly a Madonna complex (no…not the singer! ).  That means skanky chicks in tight leather turn me off, while apparently being trapped in a room full of nuns would be like the Playboy mansion for me.
I guess what I'm saying is, I've got my own hang-ups.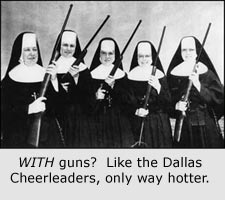 But while talking to some people about relationships the other day, it became obvious that me and my wife make a great pair for reasons unique from many other couples.  We're actually very different people even though we share a lot in common.  Thus there's a possibility that what worked for me, may also work for you.  Ready? Let's go!
Rule #1 – Spot the Douchebag
If I may be so bold, you ladies spend a lot of time chasing complete douchebags.  What is a douchebag? A douchebag is a guy who has an over-inflated sense of self importance, yet has no basis for that belief.  Douchebags are often spotted by backward baseball caps, barbwire tattoos on the arm, drive trucks that don't actually haul anything, drive foreign vehicles with modified exhaust systems, wear shirts that are one size too small, always have a dumb-ass smile, and being sports addicts.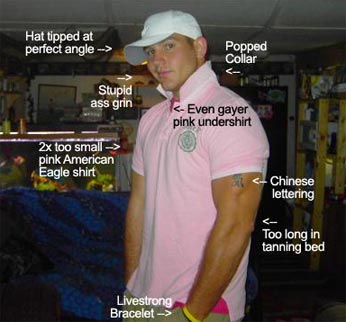 Here's your first mistake ladies…wanting a man who likes sports AND partakes in them.  BBBZZZZTTT!!!!! Wrong! A man who is athletic and likes sports is often a man who spends too much time thinking of himself and how awesome he is.  Thus, you are #2.  What you need is someone to cheer you on, not run past you.
Rule #2 – Nooking for Wub
So where to meet a guy?  Like I said, rule out sporting events and clubs unless you want to be a disposable girlfriend.  Think hot and cold. If your interests are athletic, you may want to consider someone who is more an artist, dreamer and an intellectual.  Or if you're a vegan, perhaps the butcher at your local grocery store.  You get the idea.
My wife often asks if I wish she was into 80's pop-culture, zombie and kung-fu movies, and technical stuff.  My answer…no way! I love that she is a dreamer, traveler, and high thinker.  Like my own Mom and Dad, we balance one another out.  I find people who are like me to be positively unbearable.  I guess that makes me a "self-loathing egotist" too.  Geez, I'm messed up.
So where to go?  You need a dense population of available males, like a, um…Star Trek Conventions!! Instead of a man who knows what a 5 yard pass in the end-zone means ( I have no freaking idea ), you need one who knows the purpose of Di-Lithium crystals in a Warp Core chamber.  If he knows the answer, pounce on him like Dino on Fred Flintstone.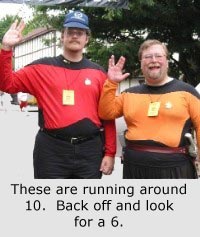 Just make sure he's employed, not living in his parents basement, has good hygiene, and can't ACTUALLY speak Klingon.  You're looking for potential here, not an inability to cope with reality!
Rule #3 – Dress for Success
If you want to catch a Raccoon, you first put the right kind of bait in the trap.  Men are raccoons, only much less civilized. Some go through the dumpsters, while others have more fickle tastes.  You want the ones that don't go through the dumpsters.  That means if you have an idea of the kind of guy you want, dress in a way that would attract him.  Sort of like dousing yourself in Moose musk, but without all the awkward trekking through a mosquito infested swamp.
Want a nice conservative guy?  Blue jeans, a tasteful shirt, sneakers and a friendly smile.  Want a douchebag? High heels and tight mini-skirts that show the crack of your ass and a t-shirt that says "OK, But Wash it First".  You get what you advertise for.
Rule #4 – Emotional Health
Here's a test…if he can watch all of "Ever After" and NOT excuse himself because he "just got something in his eye…sniff" then throw his heartless ass out the door.  Insensitive jerk!  Drew Barrymore is a genius…a genius I tell you!!! Sob!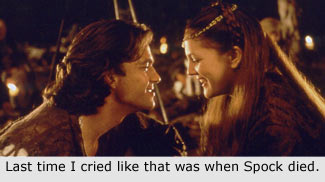 Not that you need a sniveling crybaby who breaks down in tears at the sight of a nice sunset, but a little empathy is never a bad thing.  It shows that he can have feelings for the world out there instead of being unable to take his attention away from himself.
What are some signs to look for?  What are his favorite movies?  If they have a romantic element in them that is not debasing to women then that is a good sign.  Han Solo and Princess Leia?  Good. Fast and Furious?  Not so good.
Rule #5 – Intellectual Health
Another sign is ask him what was the last book he's read.  If his answer is "an eye chart", then you may be stuck with someone who's in an intellectual free-fall.  If he likes comic books, then that's OK…it shows a geeky trend that is never a bad thing ( see rule 2 )!  Has he read the entire Lord of the Rings Trilogy and found it more intellectually stimulating than the movies?  Better keep an eye on him…he may be a keeper!
But if he likes Twilight novels, he's gay.