PARROT REVIEW: CORE de FORCE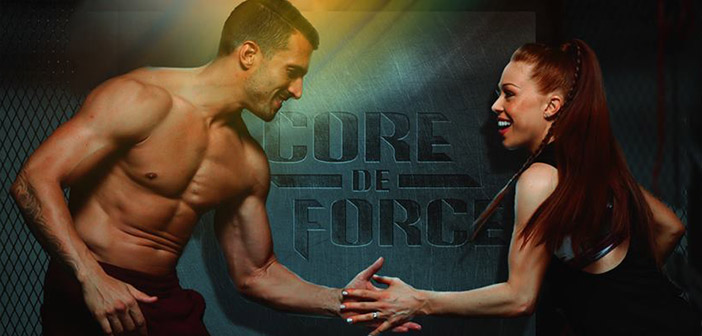 There have been many workout series thus far that have decided to answer the call of the inner-warrior.  Rushfit, Tapout and UFC Fit are but to name a few.  And while Beachbody has in the past come out with Les Mills Combat, it tasted like an MMA sandwich with too much cheese and served in a noisy bar.
Thus we arrive at Core de Force…Beachbody's second foray into appealing to the masses who dream of walking into quiet Roadhouses and ripping the necks off unsuspecting bikers.
What you get
The usual items are included: Three dvd's, 30 day calendar and a small meal plan booklet.  If you decide to go all in and spend money put aside for your spouse's Christmas present ( don't recommend it ), the deluxe package has some extra workouts, an agility ladder which harkens back to the days of Asylum, and some leftover food containers stolen from Autumn Calabrese's garage.  No broken pool cues.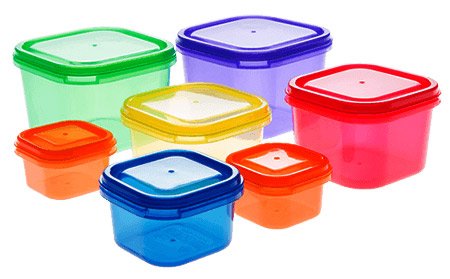 MMA Speed
Time: 26 Minutes
The first 2 weeks start off somewhat easy before you are asked to do 2 workouts a day for the last two weeks.  Joel and Jericho will be our trainers and they are unquestionably up to the task.  Joel comes off as the every-man and always maintains a friendly demeanor without being over the top.  Jericho is an atomic ginger who never enters the unholy realm of being a happy-go-lucky cheerleader.  For that, I thank you as I was legitimately concerned it would go there.
MMA Speed didn't come as too much of a surprise. It's jab, crosses, punches, knees and lots of hip rotation.  It's like a non-sucky version of Kenpo-X ( but then again, what isn't? ).  There's no high impact here whatsoever but the twisting and turning might tweak your knees if you get too floppy.
I honestly can't say this one appeals to me that much.  The whole punch-combo aspect of many MMA workouts is very, very similar and as such it felt like another drive around the old block.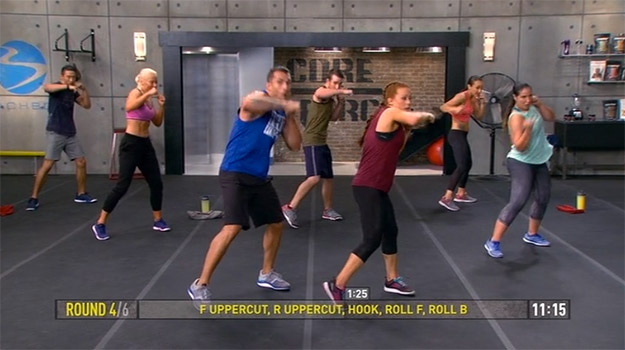 5 Minute Core on the Floor
The name pretty much says it all doesn't it.  Just take note that this is not really an ab workout but rather core. Planks and side lifts are what is expected and time goes by fast.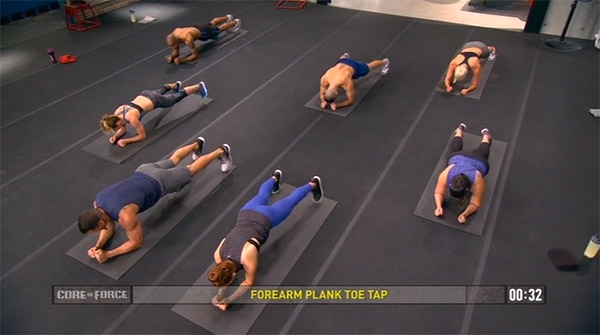 Dynamic Strength
Time: 47 minutes
Twelve 3 minute rounds that are mostly push ups, squats and balance.  There are some MMA style moves like kicks and Uppercut Crunches but it's pretty subdued.  The second half of the workout repeats the first with a little added complexity.
Power Sculpt
Time: 36 minutes
Lots of low impact plyometrics in nine three minute rounds.  Where this one shines is enhancing mobility in your core by going from lying down to getting up quickly into a stance.  Might require a few go-arounds before your body decides to play nice with this one.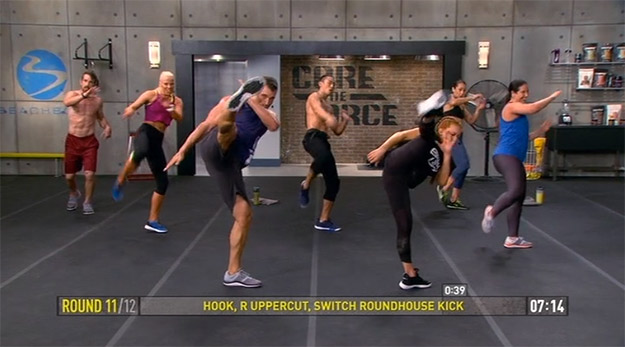 MMA Shred
Time: 37 minutes
Muai Thai inspired workout with lots of knees, elbows and kicks.  Nine 3 minute rounds of fury.
MMA Power
Time: 47 minutes
The workouts begin to demand more time and effort into week 2.  Now we do 12 rounds of core combos.  That means a whole lotta kicks, hooks and crosses.  However, the kicks will dominate your time today.  There is very little downtime here so be prepared to work.
MMA Plyo
Time: 47 minutes
12 rounds of explosive core rotation.  While there is some getting off the ground, it's not really plyo like you would get from Tony Horton or Shaun T.  This is very low impact.  So much so that I would say a better name for the workout is "Twist".
5 Minute Relax
Pajama party everyone!  Joel and Jericho dim the lights and put on the comfy flannel for a short on-the-floor stretch.  It's mostly hamstring work which is a nice way to end the day.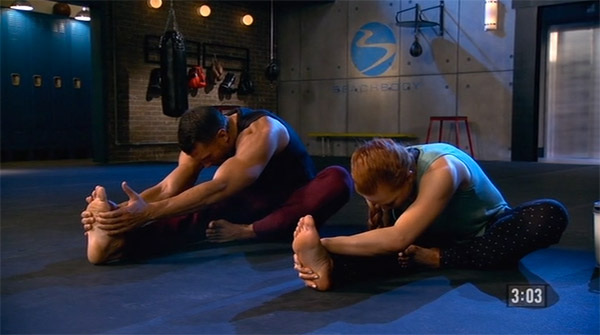 Learn It
For a few workouts there are "Learn It" segments that quickly go over the more subtle details of the moves in the related workout.  While any dumb mule can throw a haymaker, it takes a true individual of class and distinction to obliterate a rib-cage with a well placed roundhouse.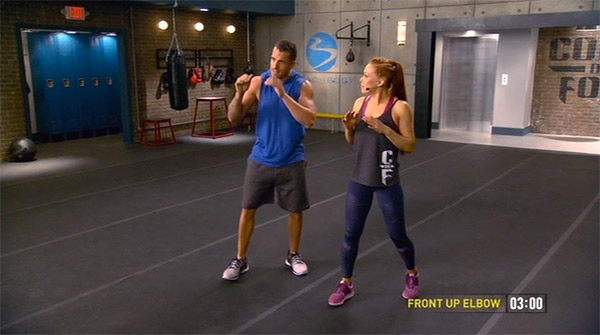 Conclusion
Hats off to trainers Joel and Jericho as it would have been unbelievably easy to throw a box of corn-dogs at this.  Instead they decide to act like normal humans who are there to train hard and encourage without resorting to gimmicks.  Likewise the cast is not showing off their expensive dental-work but instead get busy.  I appreciate that.
Neither trainers really joke that much, although smiles are always present.  In contrast, Les Mills Combat felt like too much clowning around was happening and that was hard for me to incorporate into a martial arts theme given my traditional ways of training in the past.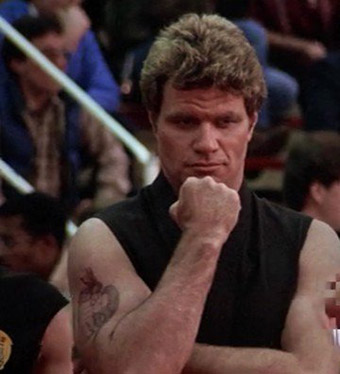 Of course, being a martial arts veteran also makes it easy to be jaded with programs like these.  From my perspective, Core de Force offers practically nothing in terms of any martial arts training at all.  That's not meant to be a criticism, but rather an observation.  One should always keep in mind that 30 days of punching the air will never be a substitute for a caring, megalomaniac ex-military Sensei with good training advice.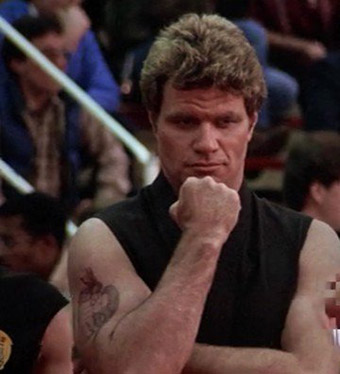 But I'll also assume that most of us are intelligent enough to know that NO home workout series will not prepare you for the octagon unless your job is the waterboy.  This is intended to be MMA "themed" so keep your expectations of joining the League of Assassins in check.  Boiled down, Core de Force is cardio with a lot of punch/kick/knee combos…which in all fairness is about as much as one can ask for in a home video series.
Music too is well done.  Nothing over the top and it's reminiscent of something you might hear in 21 Day Fix.  Same also goes for the set and overall camera work.  Beachbody pretty much has production values nailed and the old days of hokey sets and cheap camerawork are long past us.
Much like a Disney Marvel superhero movie, Core de Force follows a tried and true formula.  It's not groundbreaking or new, and as such will easily fit into any workout regime.  Even many Beachbody sets are starting to look familiar, albeit with a fresh coat of paint and decor.  It's hard to come down too hard on that as the formula is working with many new offerings.
One potential downside to a workout program like this is that after 30 days, you'll probably desire to move on.  Workouts like P90X for example, tend to have staying power beyond their allotted times.  Niche workouts like this generally get relegated to occasional use or get mixed into a hybrid regime quite soon.
Final score is 3.8 Feathers out of 5.  For people who like to shadow box and get a little ruff-and-tumble, this is a solid workout series.  Any day in your expanded schedule that requires core or cardio, these workouts would be a slam dunk fit.  For those who are die hard MMA enthusiasts, Core de Force might come up a little short compared to Tapout XT, UFC Fit or RushFit where MMA is woven into every aspect of the workout.  But CDF comes out ahead of the pack with superior trainers and production values.  All and all, an excellent addition to your regime.
PARROT REVIEW: CORE de FORCE
Trainers -

90%

Production Values -

85%

Strength -

70%

Cardio -

80%

Music -

75%
Summary
A good first outing for these two trainers.  I expect to see more from them as Beachbody taps into their talents.