PARROT REVIEW: FOCUS T25 with Shaun T – ALPHA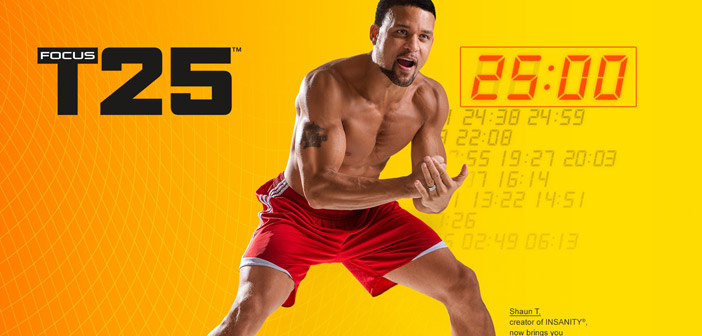 The timing for this review was quite good as I just came off a nearly 2 week road trip with my family.  Now I'm not saying I don't love my family to bits, but travelling with them can be a bit of an experience.  Especially when the destination is 1400 km away in Winnipeg.  What is Winnipeg like you ask?  Imagine Hawaii, Venice or the Mayan Riviera.  Now go to the polar opposite and you have Winnipeg.  Suffice to say, the kids were a little hyped up after being trapped in a minivan eating a steady diet of gluten-free bread and lentil chips.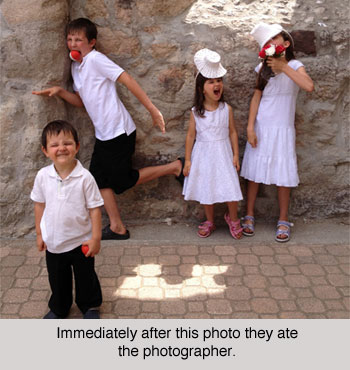 So doing a 25 minute routine seemed to be a good fit right now, especially since the lovely Mrs. Parrot has opted to join me in this review and was not really keen to the idea of jumping into an Insanity: Asylum level workout any more than I was.  So how does Focus T25 compare to P90X or Insanity?  You're about to find out from the only fitness reviewer worth any beans in this new fangled interweb thing who like I've always said, is not a Beachbody Coach.
What's in the box:
DVD pack which includes Alpha: Foundation and Beta: Core program, a bonus DVD: Core Speed, food guide, schedule poster, B-Lines resistance band, and t-shirt offer.  As usual, I'm going to totally get that shirt because when it comes to swag, I will not be stopped.
The resistance band is of low to average strength, but I'll reserve judgement until I see what physical Hell Shaun plans to unleash.

Secret Weapon: The Food Guide.  For the duration of this program, my trusty sidekick, Mrs. Parrot has volunteered to use the included food guide to fuel the hot bod that is me.  You remember the Food Guide right?  That's the booklet in the box that gets stuffed in the book shelf and ignored by most everyone.  Here's the gospel truth folks, if you're going to do a 25 minute program then food becomes more important than ever.
Alpha Cardio
My advice, do NOT do this after sitting on your butt for a week and a half from driving across Canada eating less than optimal food.
The difference between this cardio and simply jumping on a treadmill is the muscle isolation.  The muscle burnout does more to cause your heart rate to go sky high than anything else and when this was done I was soaked.  When Shaun makes you work, my friend, you will indeed work.
Mrs. Parrot really appreciated Tonya ( from Insanity ) doing the modified moves as she's new to the crazy world of fitness videos.  At the end both of us got a really good vibe about the direction of this series.
Speed 1.0
Speed, Stability, Stretch is the name of the game here.  For the first 15 minutes there is the occasional break from the speed drills with a quick stretch move.  But for the last 10 minutes it's full on.
In regards to speed, this is more than just moving the feet fast.  It is mainly developing co-ordination with moves like Squat-Thrust-Crisscross that often take advantage of the rhythm of the music.  And because of that I got a bit of deja-vu from my old experience with Hip Hop Abs.  As I recall I never really got the hang of that program, although it was certainly an interesting review.

So give this one time if you're rhythmically challenged.  Once again Tonya is there is save the day by showing the modified moves and Mrs. Parrot appreciated that.
Total Body Circuit
As one would expect, TB focuses on the upper and the lower and does a mighty fine job of kicking your butt in both.  To summarize, you'll spend your time doing squats, planks and various forms of sinister pushups that keep coming one after the other with no break.  And that's only the first part.  The last 5 minutes just push you until Mrs. Parrot thought I was going to have an embolism.
I should also mention the cool-downs are a 2.5 minute video after the main 25 minute workout with just Shaun walking you through a stretch.  I appreciate that he seems to have made several and not merely recycled the same footage like some other videos I've come across.  It once again shows the attention Beachbody puts toward the little things that add up to make them the current king of the fitness hill.
AB Intervals
Nothing recycled kids, this is all new stuff and the format is different from any other AB routine I've since seen.  It's hitting the abs hard and then having an interval "break" by doing a cardio move before diving back in.  There is also a 3.5 minute post workout cool-down video.
The moves themselves are all new stuff.  No crunches at all.  No, that would be humane, and Shaun T is not humane.  Rather the man dishes out rapid successions of isometric postures guaranteed to pound the ever living taco-leftovers out of your midsection.  It was agony, and I can say that in the end I truly loved this one!  Top marks for originality!

–
TIP: Try substituting your P90X Ab RipperX out for T25 Abs!
–
Lower Focus
When it comes to the merciless act of assaulting the legs with plyo and isometric postures, Shaun T is the master of ceremonies.  Right from the fast warmup to the Deep Pulse Lunges without any break in the tempo.  Although you can see the Insanity roots, this is relatively new stuff guaranteed to do the job.  There is also a 3 minute cool-down video after the main workout.
What Mrs. Parrot really appreciated was Shaun's exceptional coaching ability.  He never assumes anything and talks you through it all in a way that never comes off as condescending.
Oh, and Shaun is sporting the yellowest shoes I have ever seen.  One would think you'd need a permit to have shoes that awesome.
Stretch
This is the kind of stretch that warms you up in the process.  It's a healthy mix of active movements and isometric postures that get the muscles heated, not just stretched.
Naturally there is no cool-down post workout video, but rather a strange advertisement for Derm skin care for those of you who care about that sort of stuff.  I suppose this is a good time to mention the fact that each video also begins with Shakeology ads and often ends with one too.  So be warned, Beachbody is pushing their meal drink like crack.  Fortunately the ads can be skipped so at least they're avoidable.
 Conclusions thus far:
As with any other workout, you get out of FOCUS T25 what you put in.  Tonya shows the modified moves but understand that there is a world of difference between the intensity of her moves and the real deal.  But if you can keep up with the pros then you should feel pretty good about yourself after this.
Each day has one workout except the fifth day where you double up.  That day is a bear to say the least because for one solid hour you are getting slaughtered.  No breaks.  No jokes.  Those are the days that they will someday sing songs around the campfire and speak of your great feats of physical awesomeness.
So is this like P90X or Insanity?  At this point I would say no.  Not really.  Focus T25 is its own beast of balls-to-the-wall intensity but then again, that was just the ALPHA Phase.  Next comes BETA: CORE and a separately purchased GAMMA Phase for an additional briefcase of cash.  The main review will conclude with BETA although I will also add the GAMMA as a separate review.
So stay tuned for the soon to be released Part 2 of the FOCUS T25: BETA Phase Review which will also include Mrs. Parrot's review of the included T25 Food Guide.  Will the next level live up to its name and will Shaun T and his magnificent hair once again unleash torture upon our bodies?  To resist is futile because…