BOOK REVIEW: Me, Myself, and Bob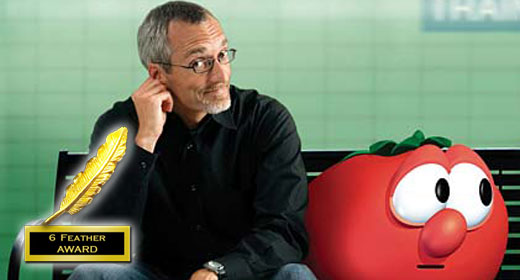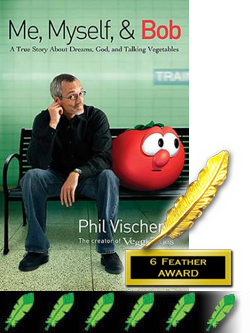 Safe to assume that you're all aware of VeggieTales. If not, I shall summarize quickly…
VeggieTales is a computer animated children's video series that is aimed towards the Christian consumer.  The shows are very popular due to their broad humor, pop-culture references and are hosted by Bob the Tomato and Larry the Cucumber.  It also has many other characters in the roster who act out Bible stories in a comical manner.
Which naturally brings us to Phil Vischer.  He's the tomato in case you haven't guessed from the cover.
Phil Vischer's story about the explosive success of VeggieTales is a fascinating read.  But this is not a story about how Phil became the Christian Walt Disney.  Nor is it another retread tale about how some ego-maniac became an All-Star sports hero and now preaches Jesus.
It's a story of how a dream can become a reality.  And then self-destruct.
Big Idea, the company Phil founded that created VeggieTales was unstoppable during its peak years.  They were cranking out animation that studios 3 times their size could not and were second only to Pixar.  The story lines were well planned, funny, and captivating.  Certainly not like the mountains of disposable, straight-to-DVD junk so prevalent in Christian media ( heck…ANY media ).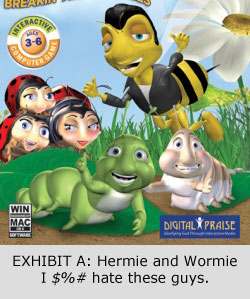 Which is why everyone was confused.  HOW could something so well received go bankrupt?  While I cannot do justice by explaining here, Vischer takes you on a journey of how his mission to become the next Walt Disney for a new era of Christian media instead ended not with a bang but a whimper as his company crumbled and his creations auctioned off to the highest bidder.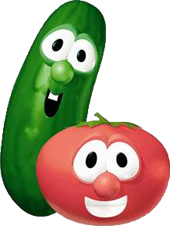 It goes through the incredible journey of coping with the disaster, the anger directed at himself from employees ( and even fellow believers ), and accepting that in order for the greater good to prevail, sometimes our dreams…no matter how well intended, must be extinguished or go on without us.
Me, Myself, and Bob is in my humble opinion, a must read.  In a world of "name it and claim it" pop-theology and the ever growing "chill out and do nothing" attitude of postmodernism this is a punch in the idealistic theological gut with the brass knuckle of reality.  This journey will leave you inspired, and perhaps even clinging to the things of this world a little looser.   Thus Me, Myself, and Bob is the latest book to receive the coveted 6 Feather Award.
Follow Up:
Despite these events VeggieTales is still being made.  After being bounced around it is currently owned by the parent company Huhu Studios, Ltd. and while Phil still offers his voice for some characters, he no longer involved in the day to day operations.
Phil Vischer however has moved on to greater things.  Jellyfish, Phil's new company, creates Christian children's videos such as "Buck Denver: What's In The Bible" that are a combination of computer animation and puppetry which are in many ways vastly superior in content to their now featherweight, theological fluff vegetable counterparts.  They have the same humor and are entertaining to both children and adults, while at the same time actually SAYING something educational and relevant.
I'd say things worked out pretty good after all.