REVIEW: One on One with Tony Horton Vol. 2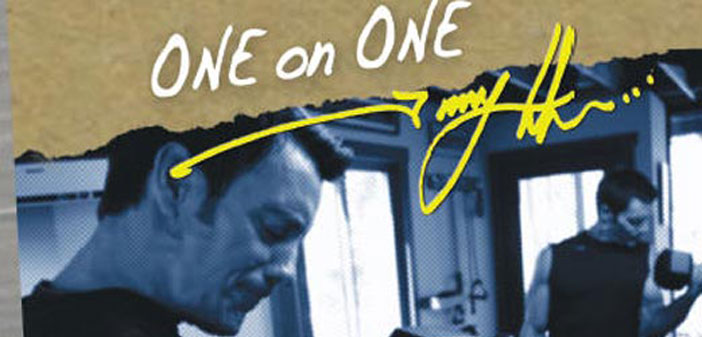 updated October 4, 2010
Volume 2 of One on One with Tony Horton comes with a few minor changes over the first volume.  There is a countdown clock on the screen, and Mason the cameraman uses a wider angle lens that puts more in the shot.  I have subscribed to this series, so will be reviewing them as they come in.
Probably would be best called Core Cardio Intervals.  It's 40 minutes of good honest heart rate thumping action.  It combines some P90X aspects from Kenpo X, Core Synergistics, and Cardio X.  There are also many new moves never seen before.  It's good for a quick cardio burn, but lacks the punch of Interval X+.  Still, it does have its place and Tony keeps it fun.  If you're wanting the best bang for the time available, I'd go with Medicine Ball Core Cardio from volume 1.  3 out of 5
This isn't a workout, but a disk meant to give away as a motivational tool to get in shape.  Tony and probably one of the fattest guys I've seen ( ie: typical American…OWWW!! ) do a modified workout to show how even the worst of us can change our ways.  Those who are P90X grads will be best at presenting this, as they should be able to outrun Jabba the Hut once he decides to punch you in the face for mentioning his obesity.  In all honesty, I think Brian may want to also consider Gastric Bypass surgery!
You'll need 2 things, a basketball/medicine ball and a 55 or 65cm balance ball.  It's 10 moves done twice in 40 minutes, and it hurts.  My core muscles were shaking so fast I thought they would set off a nuclear reaction.  If you want some good pull-up action combined with some serious core-push-up work then this should do you just fine.  4 out of 5
BONUS DISK 2: REVABS
How nice, another bonus disk!  Well, this one is called RevAbs and I guess it's the next big thing Beachbody is going to push.  All I can say is "good luck". I don't mean to be cruel, but Brett Hoebel comes off as a bit of a cartwheel-performing "machismo" showboater.  Let's just say that I'm a Systems Analyst/uber-nerd, and felt in no way impressed.  I also could barely tolerate the music.  It's like a grating latin dance beat done quickly on Garageband.  Unfortunately the demo workout is also unbelievably EASY, so I hope the rest of the package packs more of a punch than the demo.  An odd thing to give as part of a One On One subscription, as Tony is WAY beyond this. 1.5 Stars out of 5
Disk 3: Patience Hummingbird Yoga
There's not a ton of new stuff here, but the pace makes for a very relaxing 36 minutes.  You hold postures longer and get those little muscles working.  Tony proceeds from one posture to another often without cues, so I wish he didn't do that so much.  But I really liked this one because now I have another yoga option to choose from.  It's not as diverse as the "Fountain of Youth" DVD, but then again it doesn't move as fast either. 4 out of 5.
Disk 4: 10 Minute Crusher Pack
I was a little skeptical of this one, but was pleasantly surprised.  It is broken into 3 parts:
Crusher Abs- Not bad, not bad at all.  The moves are all new, not a rehash of Tony's other routines.  My gut was stinging pretty good.  It's a 20/12 workout: 20 on the floor and 12 on the pull-up bar.
Legs of Gold- Well, bronze maybe.  It's a good leg burn, but I wouldn't call this a substitute for a dedicated leg routine.  This one will probably get lost in the shuffle, or live to merely serve as a warmup before you do Shadow Boxing.
Shadow Boxing- You'll need two things, a skip-rope ( came free with subscription ) and an upbeat attitude to "wing it" in some areas.  One minute of rope, then one minute of shadow boxing and repeat.  I'm a former karate practitioner, so the freestyle boxing was a lot of fun when I was free to do my own thing.
All in all, this is a good 3-pack that will give you a needed workout when you're in a pinch for time.  The intensity is not as extreme as what you'll find in Tony's 10 Minute Trainer, but you'll enjoy it.  Also, a option menu to choose each routine would have been a nice feature instead of having to skip to your selection.  3.5 Stars out of 5.
Disk 5: Butt and Belly
This is a ten move sequence done twice.  Most moves are done isometrically, so a good slow burn will be involved here.  I would class this as a intermediate level workout that doesn't necessarily finish off the butt or belly as much as P90X would.  It clocks in at 45 minutes.  Up to this point, I'm sort of concerned about the intensity level of Volume 2, as many of these workouts would be no problem at all for a P90X grad.  Stop holding back Tony! 3 out of 5.
Disk 6: Back and Belly
Now we're getting somewhere.  This one had a lot more grit than previous DVD's and Tony shows once again that he is the pull-up king.  The abs component is good, not great…but good.  In the end it is a good maintenance workout.  It alternates between pull-ups and crunches, and maybe I'm an old school guy, but it worked for me.  Also, Tony is Tony, but not too much Tony if you get my drift.  He was a little much in the previous DVD, and backs it off here a bit. 4 out of 5.
Disk 7: On One Leg
I can't tell you how prepared I was to hate this one.  But for you all I took my medicine for the sake of this review.  And guess what?  I really, really liked it! 10 moves per side done on one leg that will create a good isometric burn.  It's not quick, but rather slow and painful.  Core, balance, strength…it's all here.  Plus, it last about 45 minutes so it's not over just as things get interesting.  Just what the Dr. ordered!  4.5 Stars out of 5.
Disk 8: ISO Abs
10 moves and then repeat those moves.  The difference with this is that these are slow and well, painful.  The total workout is slightly over half an hour and it makes better use of that time than Killer Abs did in Volume 1.  For some reason that one just seemed like a good idea that came off wrong.  Not so here.  Even for the AB Ripper X experienced, it may prove difficult to get through this uninterrupted.  4 Stars out of 5.
Disk 9: Cardio Confusion "Mason's Choice"
I was pleasantly surprised to find that my heart rate did indeed stay in the zone during this workout.  As the title gives away, Mason picks exercises out of a hat and they go for either 30 or 60 seconds a pop.  I appreciated the randomness of this because every now and then you just want to mix it up!  As for intensity, you will find it definitely packs more punch than Disk 1: Cardio Intervals. 3.8 out of 5.
Disk 10: 10-30-20
It's 100 skip-ropes, 30 crunches and 20 pushups.  This one's a keeper!  The total workout is clocked at 30 minutes but goes for more like 45 which is a good time.  I always appreciate a good upper body pushup routine and having some crunches and cardio in the mix really makes for a good days work!  It won't burn you out of course, but it will keep you maintained on days where you don't necessarily want to go absolutely bonkers.  4 Out of 5.
DVD 11: 4 Legs – TBA
Disk 12: Upper Body Balance
The good news is that this series ends on a positive note.  This workout involves using your balls…medicine and stability balls that is.  The moves alternate between abs-core and upper-body core.  The "Impossible Push-up" will at the very least give you something to overcome!  However, doing pushups on 4 medicine balls is no walk in the park either!  5 out of 5.