2010 Looks a Lot Like 1985
From cyborgs to hovercrafts, 2010 certainly hasn't lived up to the hype preceding it. Take someone from today and time-travel them back to 1985 and they would probably keep going just fine.  Oh sure, there's no internet…but that's just a time-waster anyway.  Need an iPod?  Get a Walkman.  Music downloads?  Tape record off the radio.  No Wikipedia?  Read a damn book.  We've made things easier and more accessible, but not much new has come our way in the last 30 years.  So to kill a little time, I thought I'd see what pop-culture predicted way back when  I was just a Dysfunctional Hatchling…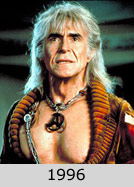 1996- Genetically Engineered Humans.  According to Star Trek, a GMO ruler by the name of Khan ( also known as KHAAAAAAAAAANNN!! ) was exiled into space in 1996.  Technically then, he was born in the 70's era of polyester and baby-blue leisure suits.  Back then we were unable to genetically modify corn, let alone the human genome.  And about the only way any would-be homo-superior is going to get off this planet is if they shell out a few million to ride backseat in a state-of-the-art Russian rocket built with parts from a '56 Chevy.
Where are we now? The collective IQ of humanity is dropping faster than you can say NASCAR.  Our predicted "Superman" health has also been replaced with extra butter and Chicken McNugget Tuesdays.   Contrary to being "evolved", we all becomin' increasing-lee stoopeedur, and a hell of a lot fatter.  Makes you wonder if were getting stupider…or if we were always this stupid.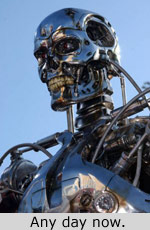 1997- Cybernetics. Judgement Day notwithstanding, the artificially intelligent cyborgs with Austrian accents were to be in high gear by this time.   At the time of the original Terminator movie we were still in love with our Commodore 64's ( I personally, did indeed adore my 64 ), and longed for the day when our computers could talk back…even if that meant being incinerated with a Phased Plasma Rifle with a 40 Watt range.
Where are we now? The best we can hope for is our iPod's intelligence becoming less artificial than our own.  And assuming SkyNet is a metaphor for Microsoft, the best we can expect from the cyborg assembly lines are mechanical Steve Ballmer dancing monkey robotsthat sweat coolant profusely and scream like banshees before they "bluescreen".  Steve Jobs remains our last, best hope for the enslavement of mankind.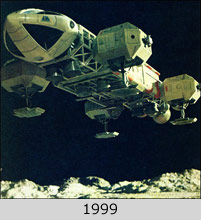 1999- The Final Frontier. The TV series Space 1999 had us on the moon.  I honestly cannot recall anything more about this series, as the rest resembled an acid trip on crystal meth while being beaten with a crocket mallet.  But the show had a spaceship and at least the kids would watch it.
Where are we now? Aside from a pitstop on the way to a potential Mars trip, nobody really can think of a viable reason to go back.  Perhaps it's a place to allow your spacesuit to air out after eating the dehydrated bean soup in a toothpaste tube and were forced to smell for the three days preceeding.  Some say we could set up a mining station and mine…dirt.  To the moon I say, thanks…we appreciate your stabalizing force on our orbit, the tides, and your shielding us from meteors thing.  Just don't expect us to call back.
2010- Alien contact. Or at least this is the year we make contact.  Truth be told, I don't believe in intelligent life down HERE let alone in the cosmos.  If a Klingon informs me otherwise then fine, but until then the burden of proof is not mine.  So far the closest thing we have to an alien life-form are ALF reruns.  And Al Gore.
Where are we now? SETI and Star Trek conventions.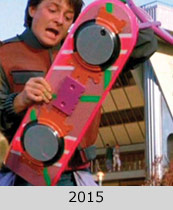 2015- Hoverboards and flying cars.  Sure, Back to the Future was sci-fi.  But there was a large part of us that expected really cool toys such as hoverboards and flying cars.  Well, the hoverboards maybe.
Where are we now? If my son's new choice in recreation is any indication, skateboarding WITH wheels will live on for at least another generation.  And flying cars?  Can anyone imagine the asshat stuck in the drivethru ahead of you being equipped with a turbine?   That having been said, I think we could fix our overpopulation problems remarkably fast by allowing the herd to thin themselves.  But considering how today's parent coddles their kid with so much obsessive cushioning that you'd swear NERF will soon have a clothing line…there's no way little Jimmy or Suzie are getting an anti-gravity device.
Makes you long for the days of lawn darts and lead paint.