REVIEW: 21 Day Fix EXTREME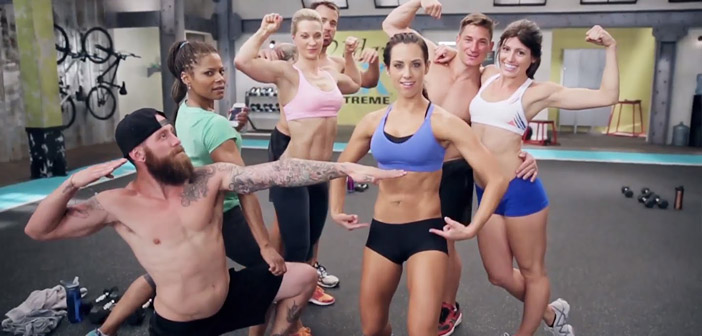 Autumn Calabrese is back with 21 Day Fix Extreme, a follow up to the original program which is known for stuffing food in plastic containers and having the appearance of a Sports Illustrated swimsuit edition.  That means I once again enter my advanced research facility in the Canadian wilderness and prepare for the Speedo competition you'd better pray never comes to your city.
What you get: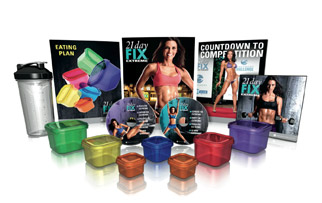 – 7 workouts on 2 DVD's.
– Food Guide
– Shakeology cup. Doubles as a cocktail shaker…or so I hear.
– Color coded plastic containers which I will probably use to keep spare drywall screws in.
Oh, and don't forget that awkward "Countdown to Competition" schedule. For you married guys out there, I would probably advise not hanging a picture on your wall of Autumn strutting around in a string bikini.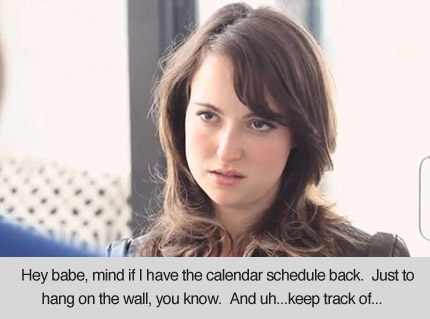 Plyo Fix Extreme
Time: 30 minutes
Gone through Focus T25?  Just had Insanity: Max 30 for desert?  Well shut up, grab some weights and prepare to feel some pain.
Plyo Fix Extreme is not the same kind of workout as a typical Shaun T or Tony Horton session. Autumn instead goes for broke and adds weights to the plyo-mix. I used only 10lb weights and it got difficult real fast.
The format is 5 rounds plus a bonus with 2 exercises done each round. Each move last 30 seconds. For most this is enough time to get the job done. Lots of squats, hops, burpees and tuck jumps that seems to attack the whole leg and glutes. If you like Insanity style workouts, this one will make you stronger for it.
Initial impressions: Music is good. Not Shaun T-Level good, but certainly not Chalene-Level bad. The set is also a little easier to look at than the original 21 Day Fix due to less bright colors that punch you in the retinas.  The guys on the set are also..shall we say…a bit "manlier" than the predecessor.  Maybe it's just Noah's beard that has enough facial hair for the average Sasquatch.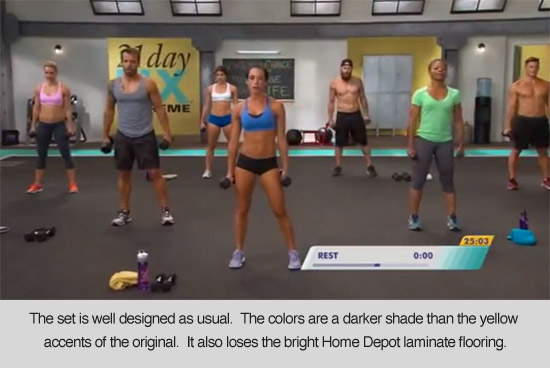 Upper Fix Extreme
Time: 33 minutes
3 rounds done twice.  Round 1 is chest/back.  Round 2 is Shoulders/abs.  Round 3 is Biceps/Triceps.  Most moves will require a light and heavy weight for the purpose of drop sets.
If P90X3 and Body Beast had a baby, it would look a lot like Upper Fix.  Round one push ups alone are a brutal way to kick this off and if you pick your weight right, even tough dudes will be pleasantly surprised.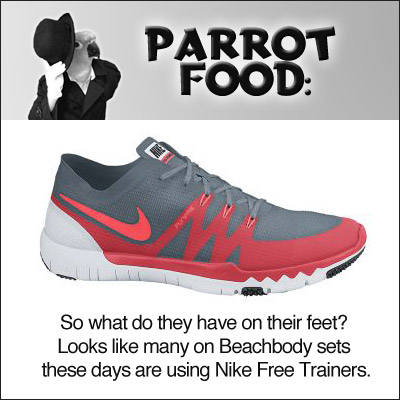 10 Minute Hardcore Abs
Time: 10 minutes.  Obviously.
Pick a medium level weight ( generally no more than 10lbs ) and hit the deck.  As with most ab workouts, it's crunches but it also boasts a series of postures that are original in the Beachbody lineup.  An excellent compliment to your growing hoard of abdominal videos.
Pilates Fix Extreme
Time: 32 minutes
Lots of stretching and pulse movements which will also double as a pretty decent abdominal assault.  If you don't have a light/medium weight resistance band, you pretty much need one for this.  It will greatly enhance your results.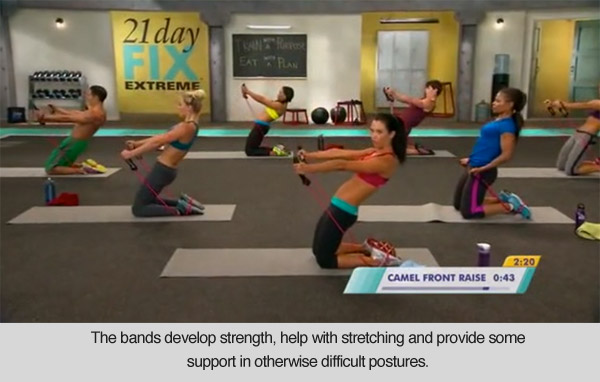 Lower Fix Extreme
Time: 34 minutes
4 rounds, 2 exercises per round done twice.  The first move is generally with weights such as squats and lunges.  The second is a plyometric move using the same muscles.  And sweet momma, that combo is going to get some results.  Especially round 4 which uses the resistance band for kickback and lateral walks.  Ouch.
Cardio Fix Extreme
Time: 31 minutes
4 rounds 2 exercises per round with a cardio interval.  This is not what you might expect, as the cardio comes more from using weights than it does from jumping around.  The muscle work makes you breathe hard to keep up which makes it feel like a round of Max 30.  This is absolutely extreme.  I do have one vice however…the music.  It is just not conducive to hardcore cardio.  If only the soundtrack kept up its part this would be a 10.
Yoga Fix Extreme
Time: 30 minutes
Sun salutations, warrior poses, vinyasas and balance postures.  I'd say this is about 85% verbatim P90X3 Yoga.  That's not a bad thing though, as the older I get the more convinced I am just how vital yoga is.  However, that 15% of unique content can be a little tricky, so watch it with the advanced moves that can…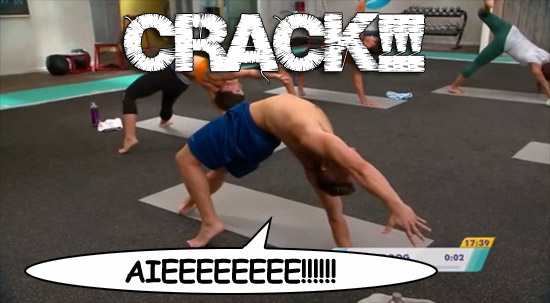 Dirty 30 Extreme
Time: 31 minutes
3 rounds, 2 exercises per round.  Each move lasts a minute.  This is intended to be a total body workover.
To get the most from your time, each move is a combo.  Lunges will simultaneously do shoulder presses.  Push ups will do rows.  Squats will pair with shoulder rows, and lunges with curls.
The Challenge ( bonus disk )
Time: 29 minutes
13 moves.  Oh…but there's more!  This is a pyramid workout, which means you do one move, then two…then three…until you finally do a complete sequence of 13 moves.  That means you'll be doing a lot of squats, push ups, abs and other postures that use your own body weight.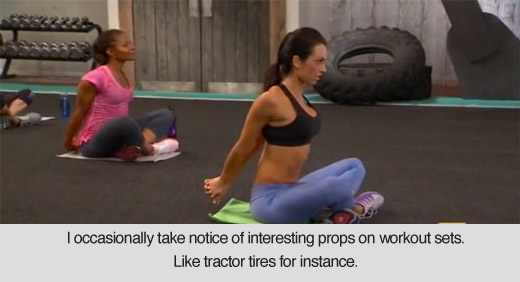 ABC Extreme ( Ultimate Package )
Time: 32 minutes
Legs and abs.  Choose a light and a medium weight and prepare for pain.  The moves alternate between legs and and abs, giving you rest time in one muscle area before going after it again.
Power Strength Extreme ( Ultimate Package )
Time: 31 minutes
Kind of expected more from this.  The name implies a total body workout, but in reality this is pretty much all legs and abs.  It's like ABC Extreme, only utilizing plyo instead of weights.
CONCLUSION
I can easily say that 21 Day Extreme is an amplified version of the original.  So much so that it can be classed as an Intermediate/Advanced level of difficulty whereas the first most assuredly fell into a beginner category.
The price of the regular package is very attractive at $60.  I'd be wary of purchasing the Ultimate Package however.  If you look at the fine print, it is $60 more dollars for two workouts, and extra set of containers (honestly, how many drywall screws do I really need to store?) and a resistance band.  That's a hard purchase to justify when for a few bucks more you could purchase an entire other workout program.  Better make sure the kids have decent shoes first.
Music also plays an important role, and it thankfully succeeds more often than not.  If I could compare, Shaun T and Tony Horton have music which generally has a "bassier" feel.  21 Day Fix Extreme feels more "treble" and lacks the boom that I prefer.  But still, that is a subjective opinion and many will have no problems here.
21 Day Fix Extreme is a big win for Beachbody which is no doubt trying to avoid becoming a two-man show with Tony and Shaun.  Autumn herself is easily likeable and thankfully doesn't come off as what some might be prone to expect from the cover.  She carries herself with class, communicates well and exhibits the traits of a professional trainer.  The original 21 Day Fix was an excellent introduction to Autumn.  After 21 Day Fix Extreme, it is safe to say that Beachbody can add another quality trainer to their roster.
REVIEW: 21 Day Fix EXTREME
Trainer -

80%

Production Values -

80%

Strength -

75%

Cardio -

75%

Music -

70%
Summary
You don't expect a program that has a predominantly girly appearance to possess such teeth, but 21 Day Fix Extreme will surprise you.