PARROT REVIEW: Jillian Michaels One Week Shred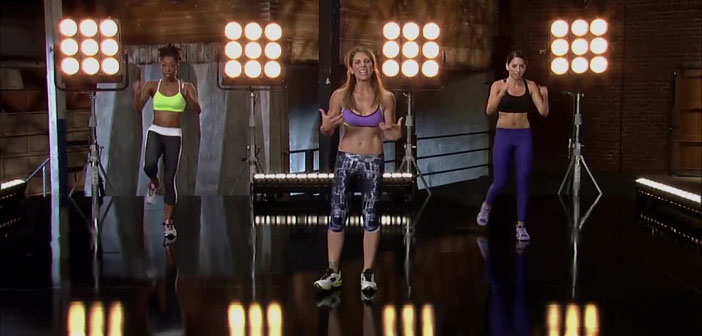 The time has come at last to check in and see what is happening in the vast world of Jillian Michaels workouts.  First on my radar is One Week Shred.  The timing is good to as I'm back from vacation where I put aside my fitness obsession and succumbed to the whims of an all-inclusive Mexican resort.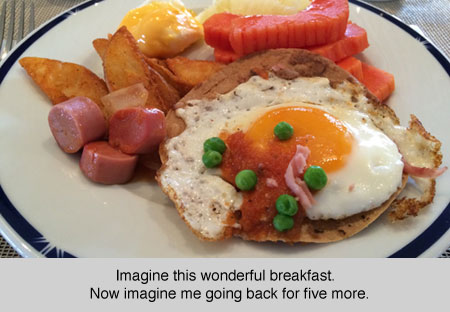 So could Jillian's One Week Shred accelerate the removal of copious amounts of huevos rancheros?  Time to enter my sadistic laboratory and put this program to the test.
 What you get:
One DVD with 2 workouts, and a receipt for $9.99 plus applicable taxes from a disgruntled Walmart cashier.
First Impressions:
The videos are shot in widescreen HD.  The set has four large blinding lights in your face that have the power to break you like Winston Smith and they reflect off a floor which could be used in a Turtle Wax commercial.  The audio track is good, but quiet.  And Jillian is dressed like a professional, ie. not wearing do-me boots like I had to endure in Chalean Extreme ( review coming once I get over that ).
STRENGTH
This is a total body circuit.  Four circuits done twice with 6 moves per circuit.  The pace is quick as you move from one form to the next so the most is made of the 30 minute runtime.  Curls, rows, pushups…the usual workout video fare.  The music is canned, but acceptable.
The philosophy is low weight/high rep and judging by the 3lbs that the cast use, I guarantee mass will not be a concern.  Seriously, grab some 10lb weights to have on standby or this is going to be way too easy.  Women might find this a satisfactory workout if their goals are simply to have a cardio-weight routine, but most men will demand something significantly more grunt worthy.  It was interesting, but I doubt I would ever revisit this.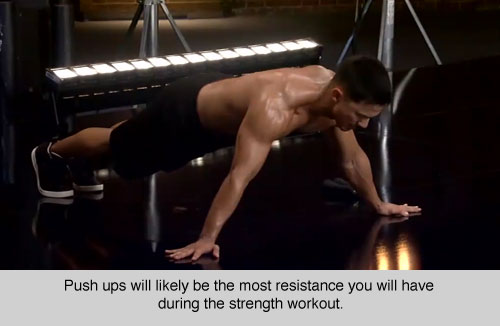 CARDIO
It's just Jillian and a couple ladies on the set.   The workout is comprised of 4 circuits that repeat themselves twice.  While the workout is good, it becomes clear that this suffers from the same shortcoming of most workouts: poor music.
For me, cardio must come with a solid soundtrack.  Here it is barely audible and not in sync at all.  This shortcoming really makes me have to work twice as hard as I'm now fighting boredom.  Therefore I advise keeping your iPod handy.  But enough of the bad, what is good about Jillian's cardio?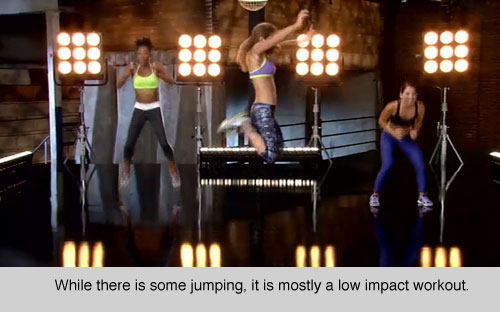 I would put the difficulty of this on par with Beachbody's P90 cardio.  The plyometrics, what little there is, is low impact so your knees with thank you.   It's not easy, but it certainly won't kick your butt.  The fact that I finished Insanity: Max 30 just prior to this made Jillian's workout feel like a day off in comparison.  I would therefore class this as an intermediate cardio routine at best.
CONCLUSION
Can't argue with the price of her DVD's.  A paltry $9.99 is an easy and inexpensive way to break into home fitness.  However, the low cost also means cutting some corners with production values.  There is no timer bar and the set designs are merely ok.  These are two things which Jillian is more than capable of resolving in future projects, given her growing popularity.  But lets face it, you have another question that is burning a hole in your gut like a 2 dollar Draino latte…what is Jillian like as a trainer?
Good news!  Jillian is indeed someone you will not want to throw a brick at.  I don't want to name names, but sad to say many lady trainers are 90% bubbly-cheerleader who do more to make me wish the workout was simply over than inspire me to push my limits.  Jillian has a bit of a "tough broad" approach that I like.  I'm 6 foot, 180 pounds and fairly fit.  Yet I feel like in a fair fight this woman would kick my ass in a way most humiliating.  That's good.  In some ways her motivation and style feels like Shaun T…minus the excessive use of double negatives in her speech.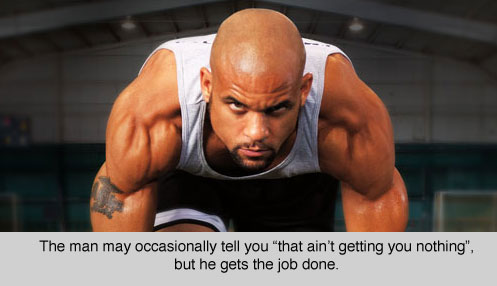 One Week Shred, despite its claims, makes a great beginner/intermediate program and those seeking an advanced workout will be disappointed.  But will it really shred?  If you truly want to shred in a mere one week, you will need to adhere to the diet plan with militant accuracy.  So for those wanting to fit into that wedding dress you bought and then began putting back ice cream like a sumo wrestler, you might want to lessen your expectations.
This is my first exposure to Jillian Michaels and I like what I see.  Given her current popularity I think it would behoove her to add some spark to her production values which would easily put her on par with the top players.  Price is also a major plus.
PARROT REVIEW: Jillian Michaels One Week Shred
Trainer -

80%

Production Values -

70%

Strength -

60%

Cardio -

70%
Summary
At $9.99, you'd be hard pressed to find an excuse to walk away from a strong workout like One Week Shred. Still, it falls into the category of a beginner/intermediate level of difficulty and the daily repetition of the same two workouts will become tiresome.