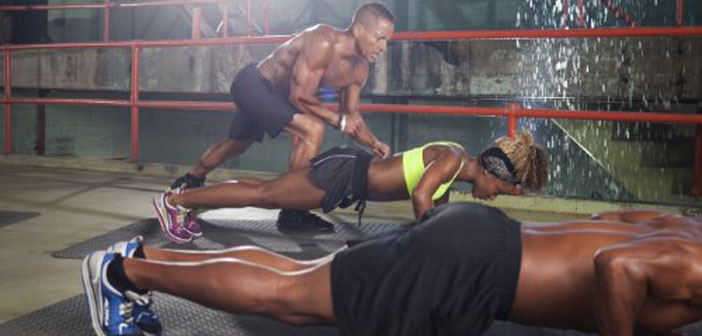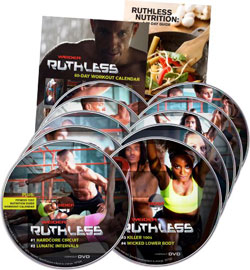 The world of video workouts is multiplying faster than a field of bunnies.  In that rapid explosion of options I have seen some spectacular things, and some duds that have left me wishing I never got out of bed in the morning.  So it was with cautious trepidation that I acquired WEIDER RUTHLESS with Steve Uria.
My reservation was due to the low price.  It comes relatively cheap, which meant the production had to be cheap too right?  Hold on kids, this one will surprise us both.
What you get:
10 DVD's containing 20 workouts at 20 minutes a pop, a calendar and nutrition guide.  The price?  $49, but I've found it for significantly less on Amazon.  You read that right…20 workouts, and all for a beer-can-refund attainable sum.  For that low price you would expect your trainer to be Boxcar Willie armed with cheap tequila and an 8mm camera.  Nope, it's a shockingly well assembled product shot in HD with Steve Uria as your chiseled trainer.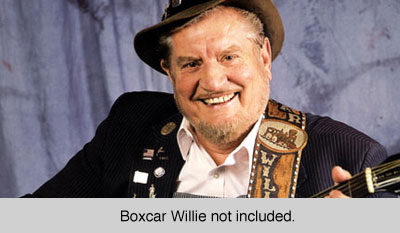 Alright kids, there's a lot of ground to cover, so let's get to it.  Keep in mind, the schedule does not have the workouts in order of their number, so some you will do more than others.  It's a long way home with 20 workouts, so I'm going to cover them quick.
01 – Hardcore Circuit
3 minute intervals for lower/upper/core.  It's primarily a core workout with 3 circuits, each done twice.
02 – Lunatic Intervals
45 seconds on, 15 seconds recovery while going after the total body.  This felt like a T25 Alpha level workout.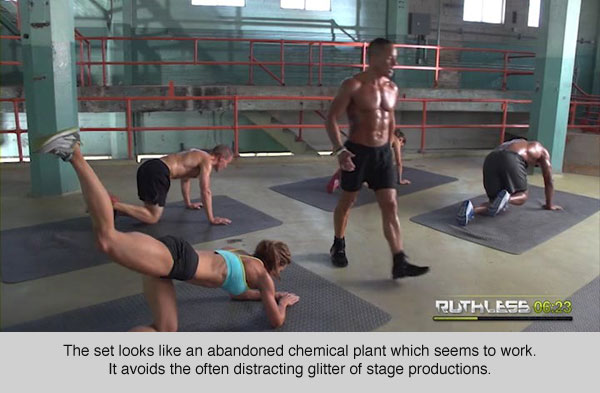 03 – Killer 100's
100 repetitions of each workout.  Squats, burpees, jacks, knee push ups, and planks.  This is probably my least favorite of the batch as boredom will kick in quick.  Thankfully, this is done only once during the entire 60 day schedule so think of it as an endurance test.
 04 – Wicked Lower Body
The moves are not complex, but highly effective.  Makes T25 Alpha Legs look like a walk in the park.
05 – Fast/Slow Burn Circuit
One minute fast, one minute slow and focused with some running in between.  Plyo, core leg lifts, ski abs and burpee jumps make this a cardio core attack.
06 – Ruthless Ringside
Sorry, but unless a reanimated Bruce Lee is going to teach me Kung-Fu I simply will never be a fan of MMA style workouts.  Still, for those of you who are deluded and think you're training to be Batman/girl, this will be great.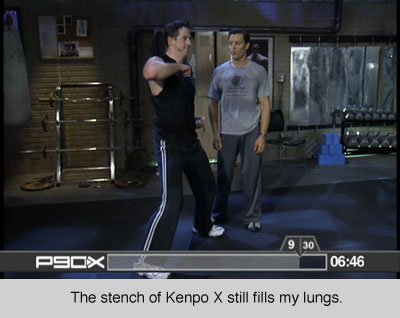 07 – Tabata Sweat
It's all men on deck as the ladies take a day off.  8 rounds of cardio.  Not sure what makes this "tabata", but then again Dr. Dre isn't a real doctor either.
08 – Core + Flex
Standing core, followed by standard abdominal crunches.  It all ends with a wonderful 5 minute stretch.
09 – Ruthless Give Back
Eight cast members show up for a full set.  I thought this might be a back routine, but no.  Instead, each cast member says a favorite move and off you go.  It's a neat concept that goes after the total body.
10 – Pure Will Power
Well, maybe not "pure" willpower.  The problem with this workout is that you repeat the same darn move so many times it bores you as fast as you wear out.  There's maybe six moves tops.  Made me long for Max 30.
11 – Super Strength and Power
One circuit repeated for two rounds with moves lasting a minute.  There's some push ups, but it's mostly leg training.  Tough too, as Steve mixes in some negative pulses half way through each move.
12 – Horizontal Circuits
On the floor the whole time for planks, crunches and obliques.
13 – Nitro Burn
It must be tax season for Steve as he's screaming like a banshee.  Jumping, running, high knees and squats sums this one up.
14 – Hardcore Arms and Abs
Push-ups of various types, punch combos and core abs. Is it hardcore abs?  Hell yes!  Hardcore arms?  Hell no.  Weights would have really been the way to go with this.
15 – DRIP
One cardio circuit consisting of ten moves done 3x.  This workout feels original and will drop you to the floor when its over. Top points!
16 – Rip 10's
Sorry, but Rip 100 sucked.  This is a more accessible 10 reps.  The moves build on the previous one so it goes up like a pyramid.  For example, you do 1+2, then 1+2+3…etc until the end.  Total body circuit trainer.
17 – Speed, Power, Sweat
Another swing at cardio that does very well.  As with most cardio, it's primarily lower body moves.
18 – Performance Stretch/Yoga
Steve is once again our host for…wait…Steve?  Uh, Steve?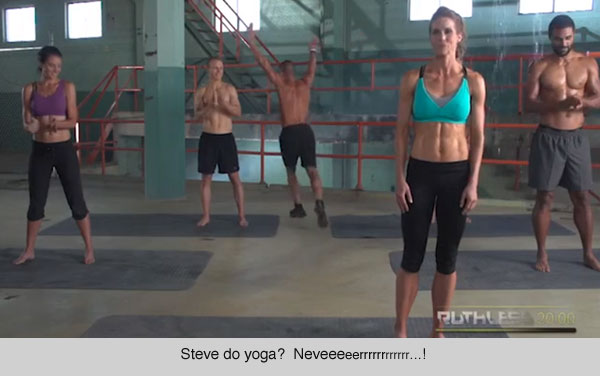 Looks like Lorainne is going to be the host for Yoga as Steve is probably late for a dentist appointment or something.  She does well, and is very skilled.  There's not much to say, if you've seen one yoga video you've kind of seen them all.
19 – Total Body Circuit
No muscle left behind.  Unless you're a bicep.  Push-ups, squats, dips and abs.
20 – Training
Nabbed Mrs. Parrot for this one.  There's lots of using the other person as resistance.  Pushing, pulling, and sweaty legs will be in the air.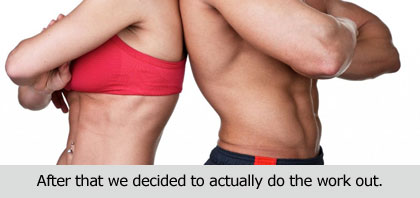 Conclusion
If any comparisons can be made to Beachbody ( because wow, that's all people want to know these days! ), it might be to Insanity.  The thing is, Insanity is actually starting to look darn old with non-HD video filmed in a boring gym.  Plus Insanity is murder on the joints.  Ruthless in many ways takes care of both those problems…better video and much lower impact without sacrificing intensity.  True, the cardio is easier with Ruthless, but it's a reasonable trade-off.
My main gripe is that out of 20 workouts, none use weights.  I think that is a lost opportunity to make this cross over multiple barriers.  It would also add variety where some would be appreciated as many of the 20 workouts do seem to feel a lot alike and often ignore the same body parts.  Arms in particular frequently get the short end of the stick.
But how is Steve as a trainer?  Pretty good, although you don't get much out of him besides repeating "This is Ruthless people!  Yeahhhhhh!"  Still, the man has put together one hell of a package and does his best to motivate.  Very little in the way of humor besides some gentle poking at his cast.
Weider Ruthless is probably worth almost twice as much as they are charging given the vast amount of workouts.  Sure, some workouts are kind of duds but you're still left with many that are more than good enough.  Steve Uria is a pleasant chap who I think is going to grow into the role of video fitness instructor very nicely as time rolls along and I will certainly be keeping an eye on future projects.
Review: WEIDER RUTHLESS
Trainer -

70%

Production Values -

70%

Strength -

70%

Cardio -

80%
Summary
Twenty workouts for $49? Weider Ruthless makes a significant impact on the home fitness video market with this very affordable product that appeals to the intermediate to advanced enthusiast.