Chalean Extreme : The Dysfunctional Review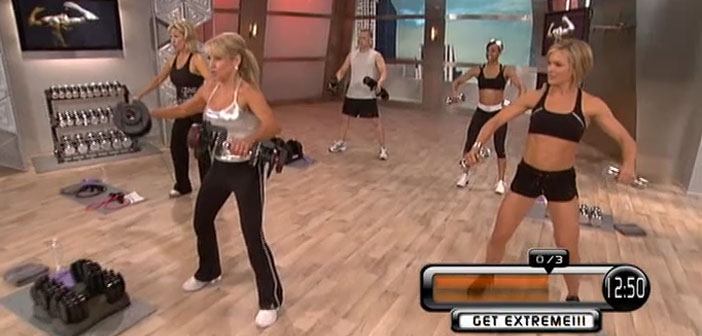 The year is 2005 and P90X is bringing world peace and bringing down the Berlin Wall for the second time.  Dogs and cats are living together in harmony and the shadowy overlords at Beachbody have decided it was time to create a successor to P90X that would appeal to a female audience.  One with Chalene Johnston at the helm.
What follows is my review into how well CE has endured almost ten years later.
What you get:
For about $90, Chalean Extreme gives 15 workouts on 6 DVD's, filmed in standard definition.  Trust me, the ads make this product look a lot more professional than what you actually see on the screen.  Each phase is three workouts, with a 15 minute ab workout and a cardio routine intermingled.
Phase 1  – BURN CIRCUIT
The idea is high reps, low weight for the initial phase.  All three workouts here are slightly over half an hour.
The warmups are the same in each video and are very much tailored to women.  Men ( and mutated parrots such as myself ) will feel like a dork for swinging around with the flashy shoulder rolls for the warmup.
You won't focus on any particular body part, but rather go for a total body circuit.  Each DVD seems to give a bigger focus to certain areas, but for the most part you're giving yourself a good once-over each time.  As expected, the workouts in this phase feel a bit too easy and I was eager to move it along to phase 2.
Can I mention the music?  Someone please pry the Garageband synthesizer away from little Jimmy.  One of my chief complaints with Chalene's workouts in general is the awful audio track and it seems here is no different.  P90X has a harder "rock" feel, whereas here it loses more than it wins.  Keep your iPod handy.
Phase 2 – PUSH CIRCUIT
Now we lower the reps and up the weights.  Again, each of the three workouts are just over half an hour.  The warmups are the same as Phase one.
Let's talk for a second about Push Circuit 3.  One word…boots.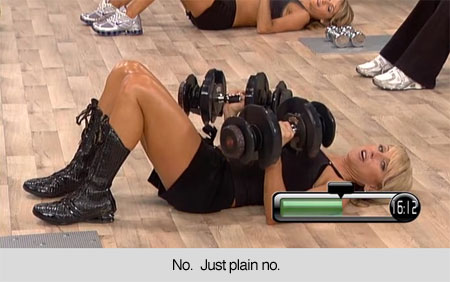 Look, I don't want to turn this into a fashion critique, but I'm not sure what "do-me" boots are doing on the set of a workout video that isn't meant to be a stripper pole instructional.  This workout is comprised of boots…damnit!…I mean total body circuits that are much like the first phase in flow.  Be sure to do your bootest…I mean best!  Damn it!!
Phase 3 – LEAN CIRCUIT
These three workouts hover around the 40-45 minute running time.
Despite my criticisms, I want to reinforce that this is not an easy program.  Lean Circuit should send that message loud and clear.  The weight drops a bit, but that's only because more focus is spent on core and balance.  Many moves are on one leg for example.  Be sure to use the workout sheets to track your progress.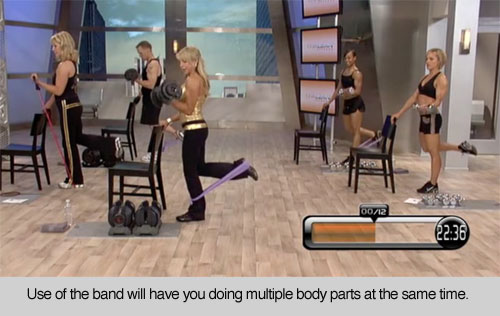 CONCLUSION
Chalean Extreme will make you leaner, stronger and will absolutely tone you up.  It gets high marks for technical merit and is very easy to follow along with, making it ideal for the newcomer as well as the advanced enthusiast.
Sadly though, Chalean Extreme is a product that better suited the time it came out.   P90X was huge, and it seemed a logical move to give a marketing push behind a female trainer to match Tony Horton.  I'll let you decide whether that concept is a good idea or not as Tony is sort of a 'one-of-a-kind' guy.  But here's the problem…this came out in 2005.  P90x was 2003 and is in every conceivable way superior.  Even for two years earlier, P90X had a better set, much better music, and better workouts.
There is the awkward product placement throughout of SelectTech weights.  Although in all fairness, it pales in comparison to the recent Shakeology onslaught.  My advice?  Get real weights, not gimmicky selectable ones.  I've used these and they're more trouble than they're worth.  They are simply not durable over the long haul and are just clumsy to handle.
Since 2005, this program has been eclipsed by vastly superior products that won't have you scratching your eyeballs or sticking cotton in your ears.   P90X blows Chalean Extreme out of the water.  Focus T25 annihilates CE's cardio.  Even the re-created P90 is a better system.  The primary reason being that the later systems appeal to a unisex audience, whereas I honestly cannot see the average dude pressing play for Chalean Extreme without feeling a little weird.  I'll admit, there seems to be a lot of love out there for this program, but when I looked further it was all from either women or the roaming cyber-gangs of Beachbody coaches.  Dudes were having nothing to do with it.
If you're a woman, this will no doubt have stronger appeal.  Most men won't have the tolerance for it and will prefer to seek other alternatives.
Chalean Extreme : The Dysfunctional Review
Trainer -

75%

Production Values -

65%

Strength -

50%

Cardio -

50%

Music -

50%
Summary
Chalene is a knowledgeable trainer who has put together a good program for those who want to add weight to their fitness routine. But make no mistake, this is not something you want to gift to the man in your life!