Dysfunctional Review: ROCKIN' BODY by Shaun T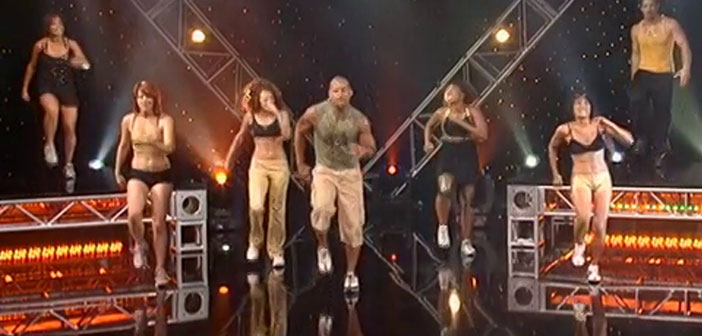 This review begins with a tale.  The tale of what happens when your wife catches you doing something you shouldn't.  Yes, even the best of marriages can be put to the test when you are caught red handed in the middle of getting your groove on and dancing to Rockin' Body by Shaun T.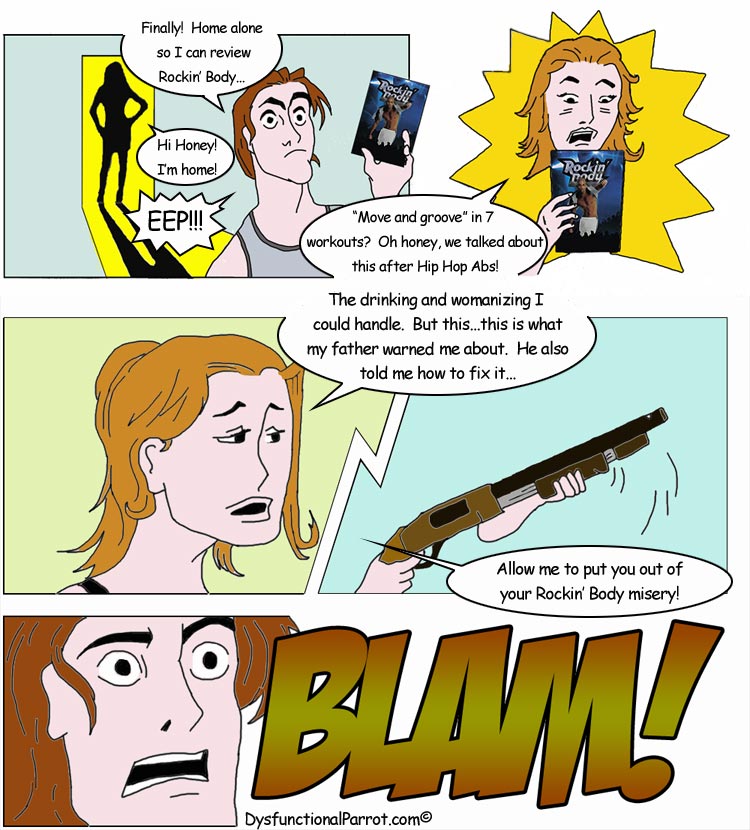 I have to admit, I honestly never thought the day would return where I had to revisit my Hip Hop Abs experience.  But for the sake of getting a review done, it seems I'll do just about anything these days.
What you get:
7 workouts on 2 DVD's and a um…"Party Guide" which is a small booklet on what to eat at those rockin' parties you will absolutely never…ever be invited to. The price for Rockin' Body is a paltry $19 which means Beachbody understands full well this is not a high demand item.  Years of marital counselling sold separately.
It begins.  Workout 1: Mark, Move and Groove.
Time: 14 minutes
The first face you'll meet is an unexpected introduction by some random dude talking to some lady who does her best to nod, smile and show off the teeth she spent the entire weekend whitening just for this moment.  Safe to say she reconsidered her career path in acting after this low point.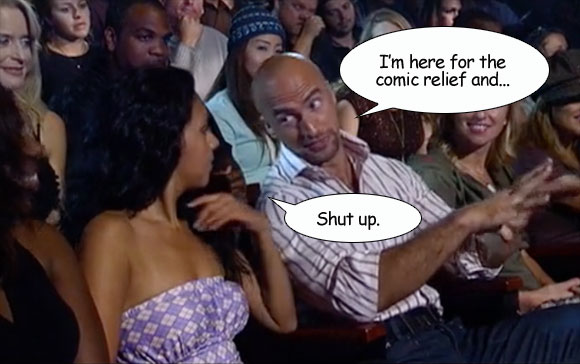 Mark, Move and Groove is the beginner workout to get you accustomed to the moves you will be engaging it.  The cast gives it their level best and dance like Shaun T is holding their kids hostage.  The brief runtime of this workout was kind of nice as it was a slow transition into the curious world of getting down with my inner groove, yo.  Know what I'm sayin?  No really, do you?  I sure don't.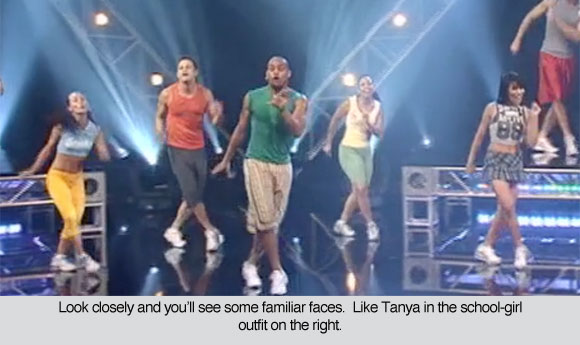 Workout 2- Party Express
Time: 25 minutes
Well, I guess our whimsical MC is going to be a regular way to start these workouts.  Oh joy.  Oh rapture.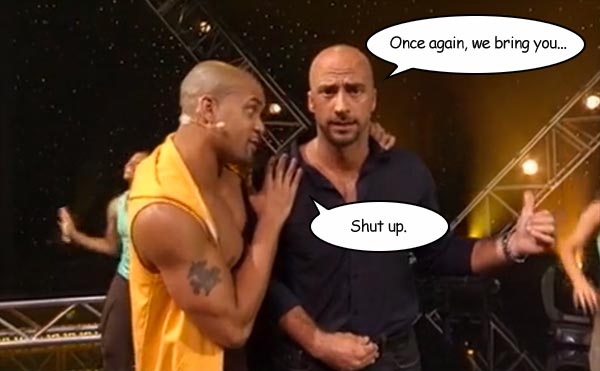 Things now get more complex, and longer.  There is a heavy core focus as one would expect, and the moves are all very low impact so don't expect anything like Insanity or the more recent Shaun T workouts.  That having been said, this is vastly more complex than Mark, Move and Groove.  To be honest, if you can pull this off on the dance floor, you would look great.  On a related note, stop going to dance floors.
Workout 3 – Rock it Out
Time: 46 minutes
Much as I loathe to admit it, this one is a killer.  Mostly because it while it has a dance feel, it definitely sticks closer to a familiar cardio workout.  The consistent use of weights throughout kept it from getting too corny and you can almost see the seeds of Shaun's more recent creations in this one.  You'll do rows, curls, push ups…you name it.  This one is hard core.
Workout 4 – Disco Groove
Time: 34 minutes
Hang on, because for the next half hour you're going to feel like you've been abducted by the Solid Gold Dancers.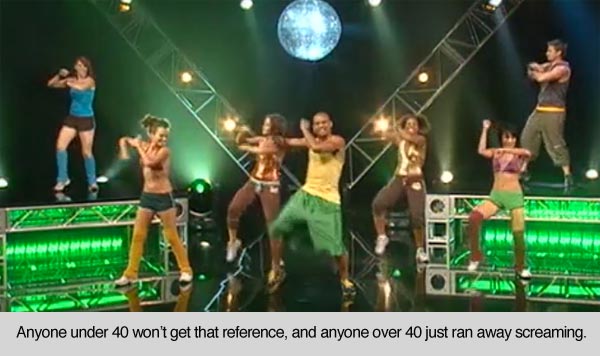 If you can avoid slipping a disk doing this one then my friend, you have a bright future as a disco specialist.  Unlike Rock it Out, this one is all dancing.  The core attack is heavy and the co-ordination a real challenge.  But for the love of all things holy, make sure the door is locked before doing this.
From a purely fashion standpoint, Disco Groove also gets the award for the most creative use of gold fabric.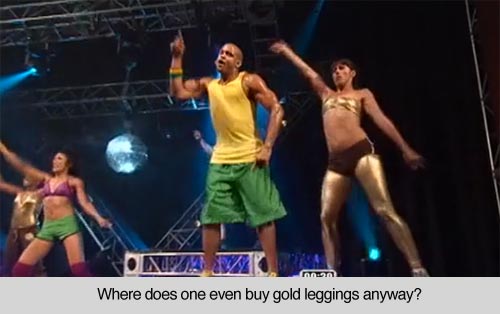 Workout 5 – Shaun T's Dance Party
Time : 43 minutes
I've never been to a dance party before!  How exciting.  Oh, who will usher in this moment of joy?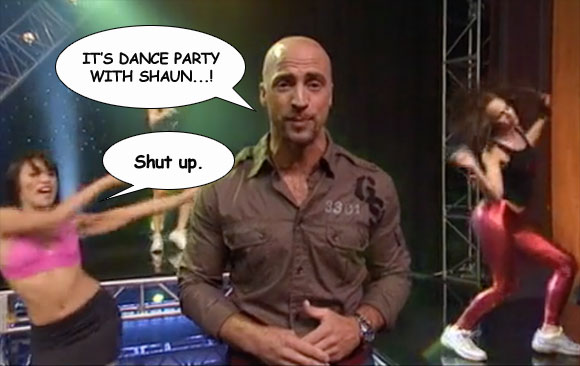 Like Disco Groove this is all dance.  Unlike Disco Groove, this one felt more do-able.  Or maybe it's just that I'm getting more comfortable with the idea of tearing up the floor with my killer moves.  Although let's be honest, we Scottish systems analysts are not exactly known for our dance prowess.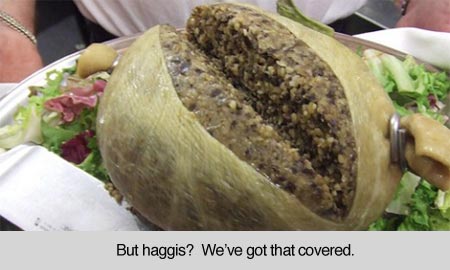 Workout 6 – Hardcore Abs
Time: 10 minutes
Remember "Tilt, Tuck and Tighten" from Hip Hop Abs?  Of course you do!  Well think of it as standing crunches while having a seizure.  Actually, you don't dance too much here but you do tighten that gut a lot.  An interesting change for an abdominal workout.
Workout 7 – Booty Time
Time: 28 Minutes
What time is it kids?  ( crickets ) Lots of squats disguised as dance moves will make this a surprisingly difficult workout.  But sad to say, I could never get the fast feet going with the same speed as Shaun, or the perpetual delight of his golden co-stars.
CONCLUSION
Ok, I'm not going to make too much fun of a workout that came out in 2007.  Not to mention that I am the absolute last person on the globe to have any concept of hip-hop music.  But still, it goes without saying that Rockin' Body, like Hip Hop Abs before it, it a product of its time that may not translate well into the glorious modern age of 2015.
I would suggest that anyone over the age of 35 should not even consider this.  Many moves are flat out designed for those no-good kids who won't get off my lawn, and the resulting flailing about might not be the best use of your fitness time.  Shaun T has also since come out with recent packages that appeal to a broad audience such as Focus T25 and Insanity: Max 30 that are undisputed champions in their class.
However, this is also $19.  So if you're feeling like trying some thing different ( and by that, I mean REALLY different ) then I doubt you can get a better value for your money than this.  Just close the curtains, ok?
Dysfunctional Review: ROCKIN' BODY by Shaun T
Trainer -

75%

Production Values -

65%

Strength -

50%

Cardio -

50%

Music -

60%

Value -

30%
Summary
An inexpensive way to introduce yourself to the world of hip hop dancing while getting fit. However, this is clearly aimed at a very select demographic which doesn't include reviewers who look like a parrot.