The New P90 – COMPLETE REVIEW: Part 2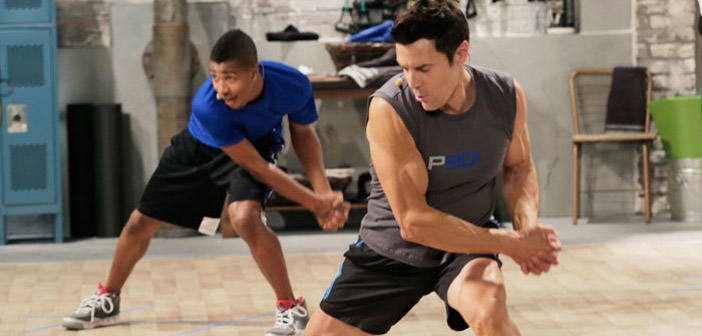 PART ONE covered Stage A and B, so now it's time to look at the final thirty day cycle of Stage C, the review of the food guide and the final score for the new P90.  Once again allow your non-Beachbody Coach reviewer to guide you through the cesspool of internet reviews and bring you again to the crystal shores of truth.  Oh yeah.
STAGE C
Same as the other series, we have a Sculpt, Sweat, and an AB Ripper.  Only instead of dancing with the daisies, it's now time to man-up and get busy.
SWEAT C
Time: 35 minutes Sweat C takes the previous MMA combos and adds more complexity to them with kicks, incorporates some plyometrics and each move is now 60 seconds long.  In every conceivable way, this kicks the ever loving tail off Cardio X…a workout I historically have never liked. This workout is an excellent advancement for the true beginner but might leave an intermediate fitness enthusiast wanting.  I hate to say it, but cardio has historically never been Tony's strong point and for the longest time I tried to understand why.  I think I've finally figured out what bothers me though.  After each 60 second move, Tony takes a short breather and this often breaks the flow.  I think the reason I like Focus T25 so much ( an conversely, why I like PiYO so little ) is that the flow is in beat with strong music and  you don't get much of a chance to stop.  Slowing down is ok, but I recommend not stopping.
SCULPT C
Time: 42 minutes When you are done Sculpt C, I guarantee that you will feel like you've done a top notch full-body workout.  Not only are there more moves to get through, but you will often deal with eccentric curls and rows.  That means up fast and down slow.  As usual the rep count is around 16, so only go heavy and switch to low reps if you feel you've advanced to that point.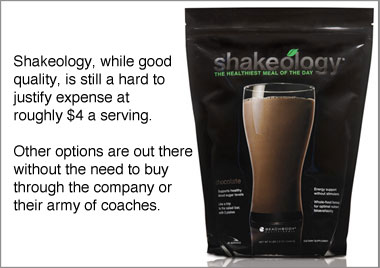 Let's take a moment to discus Shakeology…or at least the fact you are going to see ads for it.  A lot.  Beachbody is putting a heavy marketing force behind this and I often feel like Ice-T is singing "I'm Your Pusher" whenever it's mentioned.  Each workout begins with a quick 10 second ad for either this or another Beachbody supplement.  The workouts also end with an extended feature that more often than not, is Shakeology and the food guide mentions it heavily. It's their product to advertise, and I understand marketing.  Just be ready for the onslaught.
AB RIPPER C
Time: 14:30 Sure, they're only 10 reps per move but what it more than makes up for it in both the quality and quantity of exercises so you'll never get bored.  There is a heaping of variety here and this ranks up with the best of Tony's abdominal routines.  In fact, it you become good at this then AB Ripper X should be no problem at all.  Personally, I thought this workout was a real winner in every sense.

The P90 "Simple Kitchen" Food Guide is short and sweet – totalling under seventy five pages.  It starts with a simple calorie calculator and then moves to 6 steps to transform your body.  As with all of Tony's eating guides, it is easy to use and doesn't require you to do anything beyond doing your calculations and then going grocery shopping.
Then the guide moves into the recipes which it describes as "daily fat burning recipes".  The recipes are basic, nothing to complex or requiring a culinary degree to make.  A favourite recipe of mine is the Warm Quinoa Lentil Salad.  This recipe guide is to give you an idea of what to eat and you may need to get a good cookbook or just google 400 calorie meals to keep your diet interesting.
The guide has a heavy emphasis on Shakeology – seeing as that is what Beachbody sells.  Now, whether or not you decide to go with Shakeology (meaning: can your budget handle it) is up to you.  But the point Tony is making is a good one: Get a Daily Dose of Dense Nutrition.  The concept makes sense for this reason.  The food we eat doesn't have the nutrition it should because of growing methods, nutrient depleted soil, etc.  Plus, blended nutrients are a whole lot more available for your body.  So, even if you decide to go with another brand, make sure it is going to contain a similar nutrient profile that Shakeology does.  And – just because I'm a fan of superfoods, throw some in to boost your nutrition.   It is pretty safe to assume that you aren't going to get the max out of your workouts if you leave out this vital part of the program.
CONCLUSION
P90 is a solid and long overdue replacement for its aging predecessor.  The set is appealing and the workouts far more challenging and modifiable.  Tony balances his unique training style with sound experience sure to appeal to a broad range of viewers. For this review I sought to look at P90 from the perspective of a beginner, and not someone who just got through a month of Asylum.  Some complaining out there seems to be from P90X grads who find this too easy.  To them I say…duh!  What did you expect from a series designed for beginners?  Trust me, if you've ever tried the original Power90 you'd reconsider that position.  But if you're one of those people that have a hard time doing ten pushups, let alone doing a pull-up…this is your ticket right here. Where P90 falls somewhat short is in variety.  Each one month cycle has alternating Sweat/Sculpt workouts with an Ab Ripper every second day.  The Saturday Special is done only once at the end of the week.  This might make getting through a month somewhat challenging as the repetition can bore many.  An extra three workouts such as a beginner yoga and plyometrics routine would have done wonders to make each Stage go by much smoother.  I would have preferred breaking the Sculpt workouts into separate upper and a lower routines.
A solution to variety is that P90 is also an ideal hybrid package.  If one feels like amping up the cardio but maintaining the solid core weight training, mixing in a little Focus T25 would make for a perfect hybrid.  Then once you complete P90, I would move right on to a P90X3/T25 mix.  No doubt Beachbody hopes for this as they have been selling a lot of workouts that try and stick to roughly 30 minutes due to insane demand for anything that can save people time. When one considers the target audience, P90 nails it.  But after the 90 day cycle I would highly advise moving on to more advanced packages such as the P90X series or creating your own hybrid as boredom can be a powerful foe.
The New P90 - COMPLETE REVIEW
Trainer -

90%

Production Values -

95%

Strength -

75%

Cardio -

75%

Music -

85%
Summary
Tony takes the philosophy of the original P90 and reworks it for the modern era.
Pros
Perfect for those not ready for P90X
We can now forget the original P90
Cons
Not a lot of variety