P90X3 – The Complete Review: Part 3 of 3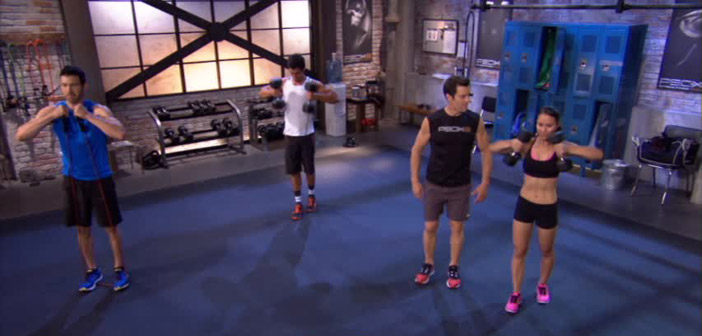 This is it!  The final segment of the world's most popular no nonsense P90X3 review!  Thus far we've covered a ton of workouts plus the Nutrition Guide but now the end is in sight.  So let's get down to business and see what the last six workouts have in store.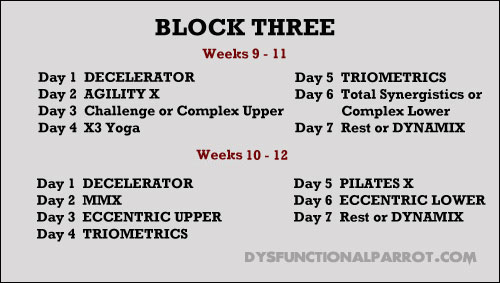 ISOMETRIX
This is the hardest part of yoga: balance postures.  This is where true core/balance will be developed.  Isometrix will also expose your weaknesses because while anyone can lift a dumb-bell, it takes work to get exceptional balance.
Like I said, Isometrix is similar to yoga, minus all the vinyasas and salutations.  Each position lasts for 45 seconds and you'll have to work hard for all of it.  Sadly, one of the hardest moves was Inner Balance: merely going one one leg while having the eyes closed.  For the life of me I could not stay still without resetting myself like a drunk driver trying to walk the line.  I eagerly await to see if I can make any progress in this area.
DECELERATOR
Tony says that coming down is where injury happens and as someone who has personally jumped out of a two story barn loft, I can totally back that up.  Decelerator is all about getting your body stronger for those landings.  The format for this thirty minutes is 16 moves with no repeats.
I highly…no…I freaking beg you to start with some form of pull-up assist.  If you somehow can do an uninterrupted set of Elevator Pull-Ups with no actual problems whatsoever then remind me never to piss you off.  Regular use of the Decelerator workout will have no choice but to make your pull/push up life easier in the long run.  Given the format of the moves involved, this would best be described as  Chest, Back and Legs.
ACCELERATOR
Accelerator has a lot to do with cardio intervals: same move at two different speeds.  Each move is 60 seconds with only a short break in between.
This is one of my preferred cardio routines from Tony, my primary one being Med Ball Core Cardio from his One on One series.  Come to think of it, a medicine ball here would have really intensified the workout, so if you have the endurance give it a try.
I'm trying to articulate the difference between Tony and Shaun T when it comes to cardio.  With Shaun you have strong music presence, the flow never stops and there's often high energy with a sense of urgency in the time given.  With Tony you're more aware of what you're doing and the flow has breaks.  Whichever you prefer is all based on personal taste.  Mrs. Parrot prefers Tony for cardio due to the more casual atmosphere and more options to modify whereas I prefer Shaun for the no-nonsense and rhythm.
Anyway, Accelerator is an exponential improvement over Cardio X ( not much isn't ).  Just watch the last move, "Donkey Kick".  It's either easy, or you will misjudge the kick and perform an unintended backflip.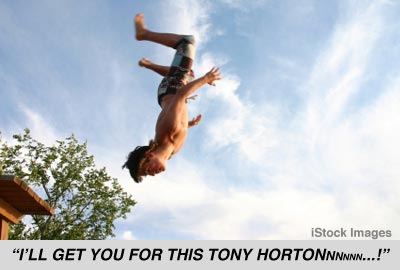 DELUXE DISK #1 – COMPLEX LOWER
As luck would have it I saved the office party photos that had a co-worker in an incriminating "position".  He has thus allowed me to borrow his expansion pack DVD's and brand new chainsaw with no questions asked.  Yes, P90X3 has 3 extra workouts not included in the Basic package.
Complex Lower is actually rather simple in execution.  It is 5 moves in a style very reminiscent of P90X2 Post Activation Potentiation.   It starts with a weighted move, explosive weight action, plyo, weighted combo, and finally an isometric posture.  This sequence in turn is done 4x.
The workout has an entirely different plan of attack than Eccentric Lower which focuses on negatives.  This goes right for the deep tissue muscle and will probably be better for endurance.  All in all, a great way to mix it up on days where legs are on the schedule.
DELUXE DISK #2 – COMPLEX UPPER
Like Complex Lower, Upper is a sequence 4 exercises done in sequence and then repeated 3x.
I already made a comment about the toughness of Jessica in Part 2 of this review, so I best not push my luck returning to that well for the sake of comedy lest Xena Warrior Princess  grind my manhood like old Silly Putty.  So instead I'll just say Shawn is a man who is very comfortable with his choice in socks.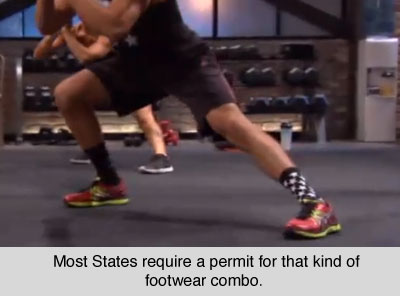 Complex Upper is a 5 move sequence done 3x with a final balls-to-the-wall bonus round at the end.  There is less PAP here and more fast move/slow move in the form of pull-ups and push-ups.  If I had a complaint here, it would be the Lunge Thrust Press which is a plyo shoulder press.  It feels very out of place having a leg jump in a workout meant for upper body.  That having been said, you can always improvise and make it a straight up shoulder press.
I have to speak once more of the music.  The music in Complex Upper makes it feel like you're ripping heads off Road Warriors while riding on the back of a Dinobot.  The whole thing combined with the actual intensity of the workout makes for a sensational 30 minutes so once again, hats off to the music crew.
DELUXE DISK #3 – X3 AB RIPPER
Fifteen minutes of abdominal torture.  This is pure heck on the midsection so take everything you knew about former Ab-Rippers and forget it.  After this, the next AB Ripper is probably going to involve a Kung Fu master dropping coconuts on your midsection from a tree.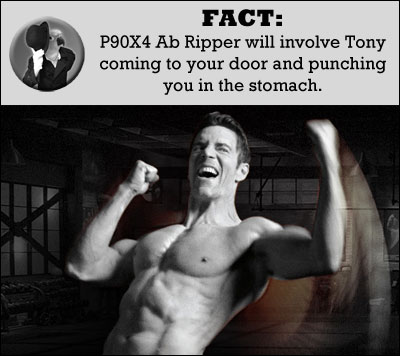 X3 Ab Ripper might only be 8 moves but that just means you get less of a break.  So while the classic P90X Ab Ripper might have more moves it also pauses more to get your bearings.  The postures are also more intense because although they seem somewhat easy at first, the burn comes fast and it increases exponentially due to isometrics and duration!  That means moves like Bridge Burners make good old Mason Twist look like a tummy tickle.  Just remember, form is king here.
Compared to other ab workouts such as Asylum, T25 or Insanity, X3 holds it's own pretty good.  It really just comes down to a matter of taste on how you want to get the job done that day.
CONCLUSION
You want it?  P90X3 has it all.  It's really hard sometimes to fully explain just how ahead of the pack Beachbody can sometimes be when they truly put their minds to the task.  Especially when it involves their current duo of golden boys, Shaun T and for P90X3, Tony Horton.
As with many of their top sellers, Beachbody really puts their heart and soul into making a great product, not just a quick and forgettable one.  For example, when a lot of posers do music, it is a sad afterthought developed by kids with Garageband.  In P90X3 is is made after the workout and synced with the action so well it just blends naturally.  The sets and lighting are also painstakingly designed to make the experience easy on the eyes.  And of course, the cast are highly competent individuals who have actually done the workouts before and are not lost celebrities just brought in for name brand recognition.  Cough…TAPOUT XT…cough…
After Focus T25, I really understood just how awesome it is to be able to get half hour workouts into a schedule because you can't always get an hour.  X3 fits that need about as perfectly as one could ask.  Combine this with Focus T25 and my friend, you will have a quality daily routine that makes little to no compromises.
But the big question remains…is the DELUXE PACKAGE worth the extra cost?  For 3 extra workouts and a couple of resistance bands, I have a hard time justifying an almost doubling in price.  And while I do like the bonus workouts, I honestly feel my fitness life will certainly not suffer without them.  Also. to buy them after the fact is a sphincter tightening three payments of $30.  For me and my budget, I would pass.
The final score for P90X3 is a solid 5 Feathers out of 5.  It's hard to go wrong with the entire P90X series based on the care taken with every detail of the production.  P90X2 at this stage remains my favorite ( 6 Feathers! ) due to the cutting edge ideas behind it but make no mistake, you will be a very satisfied customer with X3.
P90X3 - The Complete Review
Trainer -

90%

Production Values -

90%

Strength -

80%

Cardio -

75%

Music -

85%
Summary
P90X3 manages to stay with the theme of P90X yet still maintain 30 minute workouts.
Pros
Shorter doesn't mean easier
Wide variety of workouts
Cons
Deluxe package is a bit of a hose job
Comments Rating
( reviews)